2005: Venus Williams beat Lindsay Davenport 4-6, 7-6 (4), 9-7
For Venus Williams, the 2005 Wimbledon Championships was all about finding a way back.
She had collected her first ever Grand Slam on the hallowed grass-courts five years earlier, at the age of 20. The elder of the Williams sisters had shattered the glass ceiling then, becoming the first African American woman to win a Wimbledon singles title in the Open Era.
WIMBLEDON THROWBACK: Federer v Nadal 2008 – The greatest game ever played?
But Williams seemed to have lost track, and interest in tennis, when her half-sister Yetunde Price was murdered in a drive-by shooting in 2003. Less than a month ago, she was beaten by 15-year-old Bulgarian Sesil Karatantcheva at the French Open.
One step at a time
There were question marks over her future as she entered Wimbledon 2005 seeded 14th.
But with every victory Williams picked up momentum. In the quarterfinals she defeated the 2005 French Open runner-up Mary Pierce, taking the second-set tie-break 12–10. It was the first time in two years that she had made the last four of a major.
WIMBLEDON THROWBACK: Graf's hat-trick, Novotna's heartbreak
In the semi-finals, she knocked out defending champion Maria Sharapova 7-6, 6-1, avenging her sister Serena's loss to the Russian in the final in 2004.
Williams arrived in the final, her hair tied in a serious plait, without having dropped a set. However, she was up against the world No 1 Lindsay Davenport, who stood an inch and a half taller than the 6'1 Venus, and if possible, hit the ball even cleaner.
Fightback begins
And it looked like Davenport would run away with her second Wimbledon title, when, having won the first set 6-4, she served for the Championship at 6-5 in the second set.
WIMBLEDON THROWBACK: Borg's crowning glory
Refusing to go down without a fight, Williams rattled off three winners in a row to break the Davenport serve at love and push the set into the tie-breaker.
WIMBLEDON THROWBACK: Graf back to winning ways | Roger returns to the throne
Armed with a big serve, and not shy to charge into the net, Williams had a game that came to life on grass. But against Davenport, who matched her power, Williams did whatever she had to, to survive. In the third set, when Davenport broke early, Williams broke back immediately.
Moment of truth
The moment of truth, however, came in the 10th game, when Williams served a double fault at 30-30 to hand Davenport a Championship point. The 25-year-old from Compton erased that with a majestic backhand down the line winner. No guts, no glory.
WIMBLEDON THROWBACK: Ashe cuts Connors down to size | When Sampras was taken the distance
Using her long legs to chase down balls and massive wingspan to thwack them back, Williams defended bravely to keep her serve.
Late in the match, the 29-year-old Davenport was hobbled by a back strain. Williams started moving her side to side and went ahead for the first time in the match when she cracked a forehand down the line winner to break Davenport's serve for 8-7.
WIMBLEDON THROWBACK: Navratilova's reign begins | Goran becomes peoples' champion
Though Williams double-faulted at 40-0 up, she regained her poise to close out the match on the next point. She took some time to soak in the moment, the triumph. But after meeting her opponent at the net, and shaking hands with the umpire, she hopped around Centre Court, once, twice, ten times in sheer unbridled joy.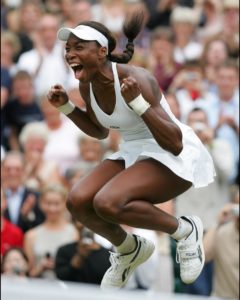 "There were so many swings of momentum, up and down, up and down," Davenport later said. "She kept fighting hard and coming back, and you know, she never cracks. Even when I was getting close, that was always when she played her best tennis."
WIMBLEDON THROWBACK: Edberg bags bragging rights over Becker
The match, played under a cloud cover, had lasted for two hours and 45 minutes and remains the longest Wimbledon Ladies final.
Unequal pay
In fact, the match lasted an hour longer than the men's final that year, where Roger Federer defeated Andy Roddick in straight sets.
WIMBLEDON THROWBACK: Graf outlasts Sanchez Vicario | Evert wins battle of the best
While Federer took home £630,000, Williams was given a cheque of £600,000. Reportedly, Williams had spent the Friday before the finals talking to Wimbledon executives and fighting for equal pay.
Wimbledon was the last Grand Slam to grant equal prize money to men's and women's champions – the change coming in 2007, two years after Venus Williams' memorable run to her third title.