In July 2020, ESPN carried a poll to recognize the most dominant athletes across all sports in the 21st century. And the fans' verdict was that Rafael Nadal's reign at Roland Garros was superior to the incredible Olympic efforts of Usain Bolt and Michael Phelps.
It may be unfair to compare sports and athletes, but the manner in which Nadal has dominated the clay-court Grand Slam warrants a pedestal with the best of the best. He is as close to invincibility as you can get in tennis on one surface.
ALSO READ: Rafa Nadal, the dominator
He won his first title on his Roland Garros debut in 2005 as an exuberant teenager.
Fifteen years later, he still plays every shot, every point with the same intensity. He has collected 13 French Open titles, the most by any player at a single Grand Slam event, and has won 100 of the 102 matches he's played on the clay-courts of Paris.
We take a look at why Nadal's game creates the perfect storm on terre battue:
Movement on clay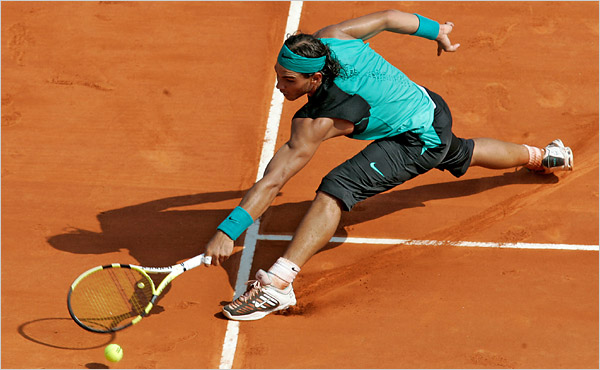 The powdery layer of red-brick on European clay-courts is only 2mm thick and is laid on a bed of crushed limestone. Since it is loose dirt, traction is notoriously less on this surface and gives a whole new meaning to the phrase 'feet of clay'.
Andre Agassi's former trainer Gil Reyes had told New York Times in 2012 that playing on clay is like, "playing tennis on a hardwood floor in socks."
But you wouldn't know that looking at the sure-footed Rafael Nadal. Born and bred on the red stuff, the Spaniard's movement is quick, efficient and decisive.
Sharpen your backhand with our FREE guide
His uncle and long-time former coach Toni Nadal, who took a break from the tour in 2017, said, "You should move correctly every ball. Move to defend it. Move to attack it. The movement is very important every point."
Unusual tennis facts: What's on top of the Wimbledon trophy?
The 19-time Grand Slam champion can speed and slide on the clay, change direction, run down any ball in the postcode and hit winners on the run. Much of his defensive prowess comes from his anticipation and movement.
In a 2018 interview, former Wimbledon champion Pat Cash said, "I don't think I've ever seen anybody move that quick on the clay."
Top-spin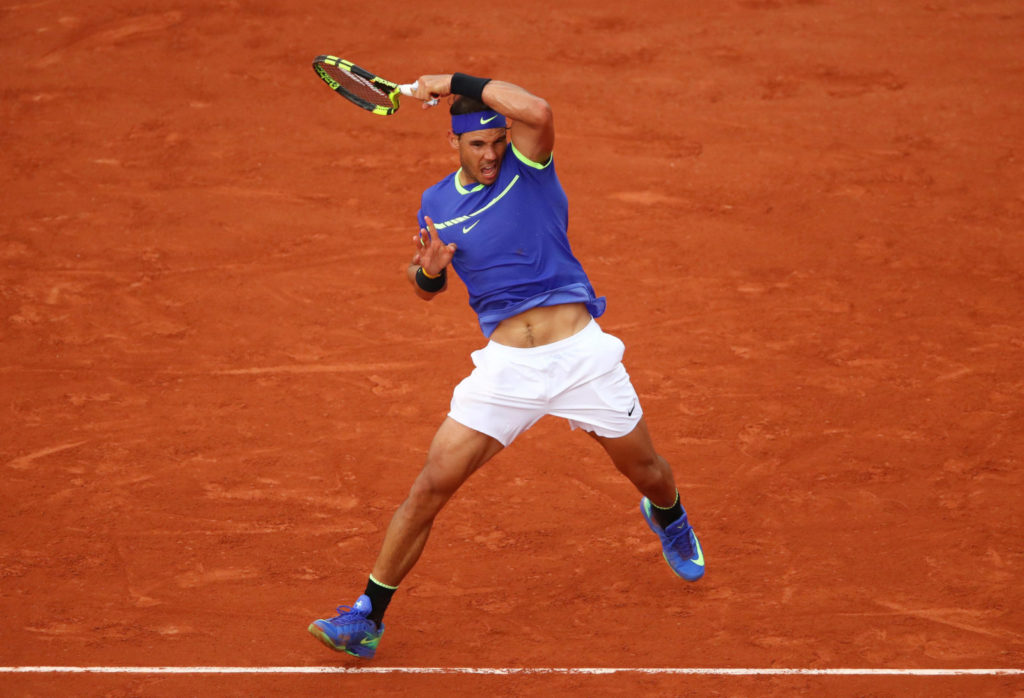 If there is one term that has become definitive of Nadal's game, especially on clay, it is top-spin. It's vicious and it leaves his opponents in a tizzy.
Top-spin helps players to get a better net clearance and make sure that the ball dips in inside the white lines. It is devised as one of the strategies to minimize errors, but Nadal hits the balls heavier than any player. While on an average men's tennis players impart 2,700 revolutions per minute on the ball, Nadal's average is higher by 600rpms. It has even touched about 5000 rpms.
ALSO READ: Djokovic wins record 36th Masters title in Rome
On his forehand, the reason he uses the above the head finish (buggy whip) is because he wants to have the most amount of space to brush up the ball with and by finishing above his head, he's able to do that to the fullest. More the vertical movement (low to high racquet swing), more the brush and more the top spin.
This movement is exaggerated on the red dirt, where the ball slows down on impact and kicks up higher and more aggressively. The weight of the shot literally pushes his opponents further behind the baseline, making it more and more difficult to control the shot.
ALSO READ: 'We despise each other,' Fognini says of Murray
The fact that he is left-handed works well with this strategy. His whip of a cross-court forehand is aimed at the (generally) weaker backhand of his opponent. Since the ball kicks up higher, it is out of the hitting zone of the player across the net and a lot of times players have to take it almost shoulder high to get the ball back into play.
Nadal has never lost to a player with a single-handed backhand at French Open: though he has faced three of the best in the business – Roger Federer's, Stan Wawrinka's and Dominic Thiem's – in finals.
Strength and power
Nadal, 34, is like a battering ram on the tennis court, strong and relentless.
His bulging biceps (his sleeveless tees mean they are on display perpetually) are only part of the story. He has incredibly strong legs and a thick trunk that power his intensely physical game hours on end.
The strength in his inner thighs help him balance in wide stances on the slippery surface and still fire from the hips.
Reyes said, "Not just the strength to hit, but over and over again. His legs allow him an intensity in movement."
Point construction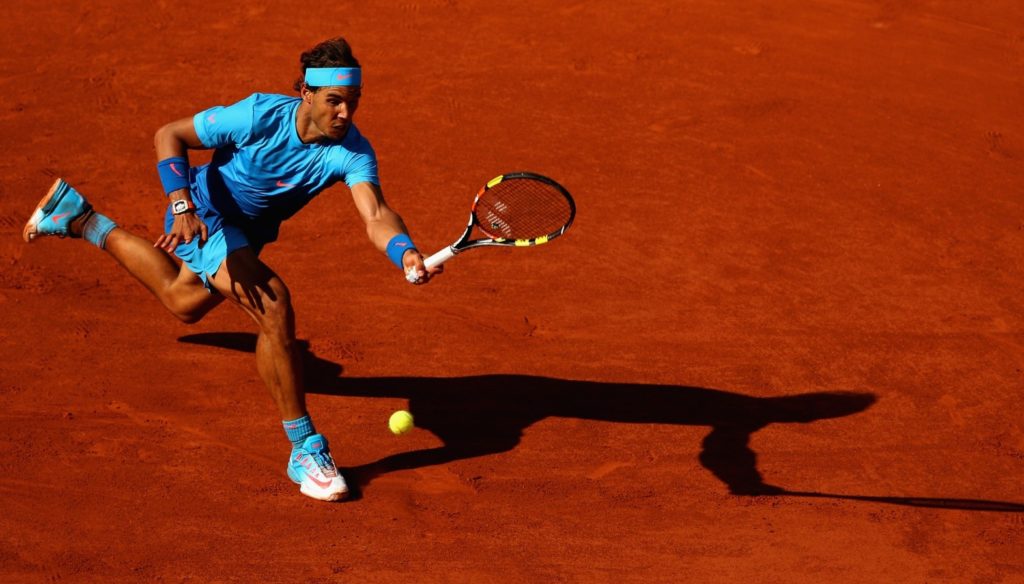 For all his physicality, Nadal turns tennis into a chess match on clay. He understands the canvas, and how to use every inch of space on the court, how to create angles better than anyone.
Toni Nadal believes, "It's important to know the point is not only with one shot."
The slowness of the surface guarantees that there are no quick points on clay. You have to work for it.
ALSO READ: Thiem's former coach to sue the player's family
Rafael Nadal pushes and pulls, luring rivals into his pattern of play. The best clay court players think two shots ahead, the Spaniard, Federer's former coach Jose Higueras believes, thinks three or four shots in advance.
According to doubles legend Todd Woodbridge (of the Woodies fame), what separates Nadal is, "his ability to shape a shot, his defensive skills, and his knowledge about when to attack and when to defend."
Nadal knows it's a long road to triumph and measures every step of it.
Mental and physical endurance
In one fine moment of eloquence Nadal said, "I learned during my career to enjoy suffering."
His mental and physical fortitude glows on the red dirt. Players not only have to be strong to run down the ball tirelessly for hours, they need to have the patience to see it through.
"Mentally, he's just ferocious," Cash said.
"Clay is one of the toughest surfaces to be successful at, because you have to be focused all the time, the momentum can change very quickly. On grass or other courts, you can hold your serve, or hit a couple of big serves and stay in it, but not on the clay, you have to be persistent all the time."
ALSO READ: Edberg tips Thiem to end Big 3 dominance
Nadal's ability to play every point like it's the last of the match has been a major factor in his success. It is physically and mentally draining, to put in that much energy into each and every point. Just ask his opponents, who are wrung dry by the man from Mallorca.
It is not surprising that Nadal dominates as the match goes on: at Roland Garros he wins 65.4% of the games in the first set, 66.2% in the second, 68.4 in the third.
ALSO READ: Umpires in the firing line
Nadal has been pushed to five sets only twice at the French Open, and he came out on top on both occasions: 2013: Semi-Final d. Novak Djokovic 6-4, 3-6, 6-1, 6-7(3), 9-7, 2011: First Round d. John Isner 6-4, 6-7(2), 6-7(2), 6-2, 6-4.
The Spaniard will begin his title defence at Roland Garros on September 27 with possibly the least preparation he has ever had going into the Grand Slam.
But it would surprise no one if he is still the last man standing.