Tennis legend Stefan Edberg feels as good as the Roger Federer, Rafael Nadal and Novak Djokovic 'trivalry' is good for the sport, it will be better to see a younger player end their stranglehold over Grand Slams.
Stan Wawrinka was the last player outside the 'Big 3' to win a major, when he claimed the 2016 US Open title. Since then, Federer, Nadal, Djokovic, all of whom are in their 30s, have maintained an iron grip over the majors, winning 13 in a row.
ALSO READ: 'It will annoy everyone if Novak breaks Roger's records'
"In the end, the Grand Slams are always for Roger Federer, Rafael Nadal and Novak Djokovic and apparently I don't know when this thing can change in the short term," Edberg said during a video interview on Eurosport.
"It's nice to see their rivalry, but I think it would be more nice to see a young tennis player break their dominance."
WIMBLEDON THROWBACK: Eberg bags bragging rights over Becker
The player Edberg has picked to cause the Big 3 the most trouble in coming years is Dominic Thiem. Currently ranked No 3 in the world, Thiem proved that he can be dangerous on all surfaces. He has made the finals of the 2018 and 2019 editions of French Open and ran Djokovic close in the final of the 2020 Australian Open.
"Thiem is a genius and I have no doubt that he is the closest tennis player to Rafael Nadal, Novak Djokovic and Roger Federer," Edberg, the six-time Grand Slam champion, added.
"From the beginning he has shown that he can truly win a Grand Slam tournament. In Australia he put Djokovic on the ropes and he showed that he can fight on par with any tennis player in the world. Without Nadal at the Roland Garros, I think he would have won a Grand Slam for some time."
ALSO READ: Can't bear to watch 4-5 sets of tennis, says Gasquet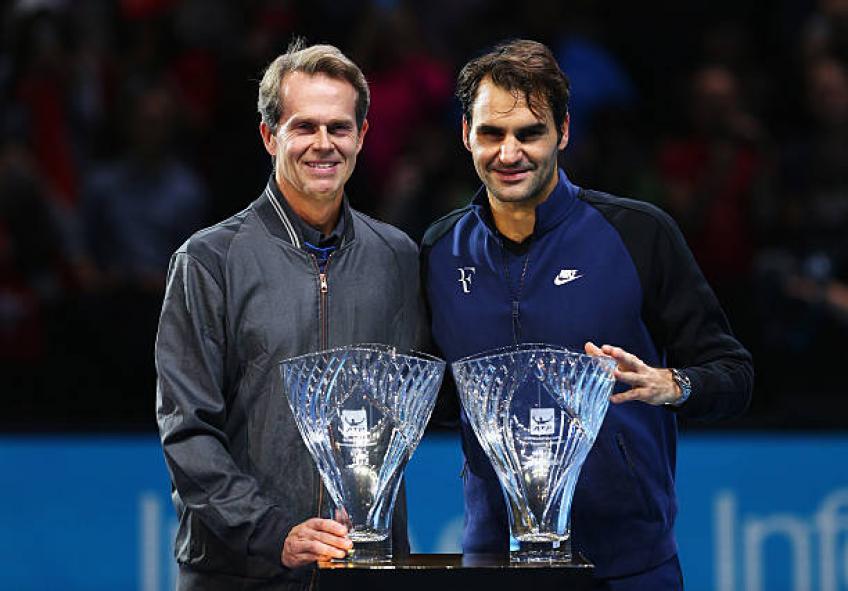 Even though Edberg likes to keep a low-profile, he shot into limelight again when he started coaching Federer at the end of 2013. Though the 54-year-old was unable to steer Federer to a major during their two-year stint, he guided him to two Wimbledon finals: 2014 and 2015.
But the Swede believes the 2019 Wimbledon final between Djokovic and Federer is the best he has seen.
ALSO READ: Nadal most dominant athlete of 21st Century
"The best final in history? I think the 2019 Wimbledon final between Roger Federer and Novak Djokovic is the best match I've ever seen, because in that game there was an incredible level of tennis," Edberg said.
"I'm very sorry for Roger who wasted two match points, and he was at a point from a new Slam title, but Djokovic was also superb.
"I prefer that match to other great finals played by Roger Federer against Rafael Nadal or to some of Bjorn Borg's past wins on John McEnroe."