As the rescheduled French Open begins on Sunday, we look at men and women who will start favourites at the clay-court Grand Slam:
Men's contenders
Rafael Nadal
No player so completely dominates one surface as Rafael Nadal does on clay.
He has collected 12 French Open titles, the most by any player at a single Grand Slam event, and has won 93 of the 95 matches he's played on the clay-courts of Paris.
On the surface in general, he has a career win-loss record of 436-39.
The 34-year-old though will go into the 2020 French Open with possibly the least preparation he has ever had. The left-handed Nadal usually warms up for Roland Garros with a couple of titles during the clay swing.
ALSO READ: Rafa Nadal, the dominator
But with Covid-19 forcing a change in tennis schedule, the Rome Masters was the only tune-up event for Nadal. He missed the American hard-court swing, including the US Open, instead opting to stay in Europe and practice for his favourite Slam.
At the Rome Masters, Nadal made a shock exit in the quarterfinals. The World No 2 lost 2-6, 5-7 to Argentine pocket dynamo Diego Schwartzman in the Italian capital.
"Even though he lost this week, a lot of people will agree that he's the No.1 favorite," said one of his biggest rivals Novak Djokovic.
Sharpen your forehand with our FREE guide
"The record that he has there, the history of his results, you just can't put anybody in front of him. But, definitely, Diego showed that Nadal is beatable on clay, the conditions that they played on, obviously heavy clay, not much bounce, humid, night session, we are going to have that as well in Paris."
Novak Djokovic
The World No 1 is at his best when he is cornered.
Novak Djokovic will look to make amends for his unfortunate exit from the US Open – he had to default his fourth round match against Pablo Carreno Busta for accidentally hitting a lineswoman in the throat with a ball – at the French Open.
The Serb has bounced back immediately on the European clay courts, winning the Rome Masters on Monday. With it, he also now holds the record for the most number of Masters 1000 titles – 36 to Nadal's 35.
"I don't want to sound arrogant, but I haven't played my best tennis," the 33-year-old Djokovic said after winning in the Italian capital.
"I still have a few gears and I am going to need to get there in order to achieve a good result at the French Open 2020."
ALSO READ: Djokovic wins record 36th Masters title in Rome
Djokovic has had an incredible season on court so far. He is now 31-1 in 2020, his only loss on paper coming at the US Open. Only in 2011, when he won his opening 41 matches of the year, has Djokovic reached 30 victories quicker.
It is no secret that the intense Serb is gunning for history now. With 17 Grand Slam titles to his name, he is only two short of Rafael Nadal's tally of majors and three short of Roger Federer's. With those elastic legs under him, he is quickly closing on his rivals.
Djokovic, who won the Australian Open earlier this year, also surpassed his idol Pete Sampras' mark of number of weeks at the top of the rankings – 286—this week. He now trail's only Roger Federer's record of 310 weeks as the highest ranked player.
The Serb is also one of the only two players – other being Robin Soderling in 2009– to have beaten Nadal at the French Open.
Dominic Thiem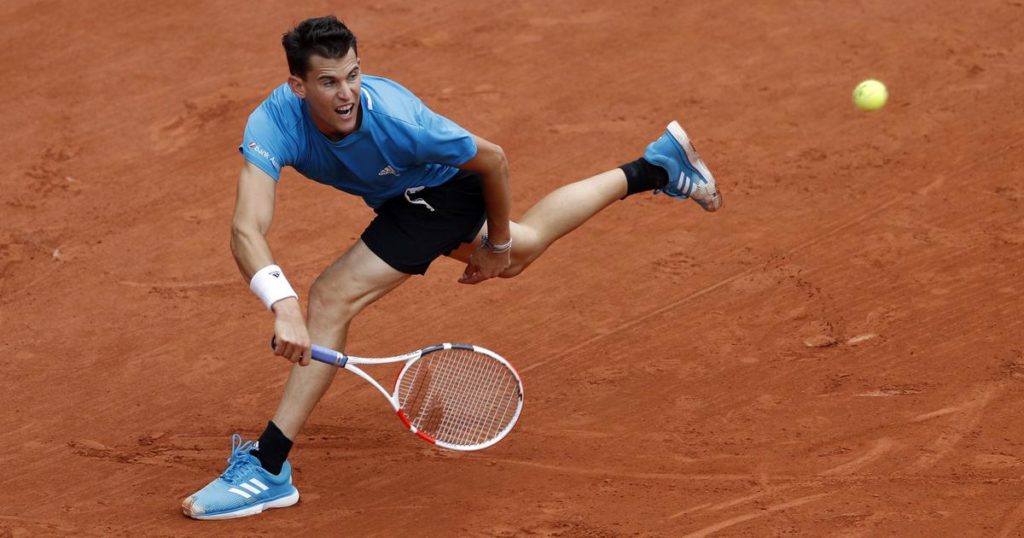 After Nadal, Dominic Thiem has been the most consistent player at Roland Garros the past five years. He made the semi-finals in 2016 and 2017, then went one better with a finals finish in 2018 and 2019.
While he lost to Djokovic in 2016, he has lost to 'King of Clay' Nadal on the past three occasions.
But the Austrian, powerful on both the wings, is inching ever closer to a title at the clay-court Slam. Thiem defeated Djokovic in an exhausting and thrilling five-set contest in the semi-finals last year and took a set off Nadal in the finals before eventually losing 6–3, 5–7, 6–1, 6–1.
ALSO READ: Edberg tips Thiem to end Big 3 dominance
This time, the 27-year-old will enter a Grand Slam as a major champion for the very first time. He defeated Alexander Zverev in five sets in the recently-concluded US Open final, to win his maiden Grand Slam title.
Thiem may well carry that momentum and confidence into Roland Garros, which has been his most successful Slam so far.
The one glitch is that Thiem has not played any warm-up events on clay and it will be interesting to see how quickly he makes the switch from hard-courts to clay.
Women's contenders
Simona Halep
The former French Open champion extended her winning streak to 14 to clinch her first Italian Open title this week.
Halep had won the WTA event in Dubai before the tennis tours were suspended due to Coronavirus. It's been like the near six-month break didn't happen, as the Romanian hit the ground running on resumption.
She picked up a title in Prague and won in Rome for the first time, on her third attempt.
"The pandemic got me in a place that I really dreamed to be," the two-time major champion told WTA Insider Podcast recently.
ALSO READ: What's that on top of the Wimbledon trophy?
"I am more mature. I am more relaxed because I could see that the most difficult things are in life in general, not in sport. So being able to do this as good as I do in the last seven years, it's a big thing.
"I'm here because I wish to be here. Nobody forces me. Nobody pushes me to come here. I just come because I love tennis and I love to face these emotions. Actually, in pandemic time I missed these emotions and now I don't fight with them anymore."
With World No 1 Ashleigh Barty deciding to skip the French Open, the 28-year-old Halep will be the top seed. And the woman to beat.
Serena Williams
The wait for Serena Williams' record equaling 24th Grand Slam title continues.
It hasn't been easy going for Williams at the clay-court major in recent years. Since making a return to the tour after childbirth in 2018, the American has made the fourth round and the third round respectively in the last two years.
The slow-playing red dirt will no doubt again test her endurance and it remains to be seen how the 38-year-old handles it.
ALSO READ: 'Serena not good enough anymore to win Grand Slam titles'
Williams has struggled to dominate opponents since the tour resumed from a five-month hiatus this season. Of the 11 matches she has played so far, nine have stretched to three sets. And the American looked visibly winded after long rallies during the US Open.
She last won the French Open in 2015 and will enter the tournament this year without any warm-up events on clay.
The odds are heavily stacked against the former World No 1, but it's never wise to count Williams out.
Garbine Muguruza
Muguruza first proved her Grand Slam credentials when she defeated Serena Williams 7-5, 6-4 in the final of the 2016 French Open. Not just defeat, she overpowered and outpaced the American.
She defeated the elder of the Williams sisters, Venus, in the 2017 Wimbledon final but has followed it up with a series of first-week exits at the majors.
A pure striker of the ball, Muguruza has struggled for consistency.
ALSO READ: Umpires in the firing line
She made surprise first-round exits at Wimbledon and US Open last year. Rather than wallowing in her disappointments, Muguruza cut her season short and climbed to the summit of Mount Kilimanjaro, Africa's highest mountain in November.
The 26-year-old started 2020 with renewed energy, beating four seeded players, including Halep, to reach the final of the Australian Open. She was hobbled by an ankle injury during the US Open series but seems to be finding her rhythm back on clay.
Muguruza put up an impressive performance at the Italian Open, making it to the final four. Against Halep, she put up a spirited fight, clawing back from 1-5 in the deciding set but eventually went down 3-6, 6-4, 4-6.