1995: Steffi Graf beat Arantxa Sanchez Vicario 4–6, 6–1, 7–5
Steffi Graf and Arantxa Sanchez Vicario stood across the net from each other, 14th straight time in a tournament final, third straight time in a final of a Grand Slam. The top two players in the world; fierce rivals. And during the summer of 1995, potential saviours of women's tennis.
"During that fortnight, the London press had pilloried the WTA's players for being overweight and unfit, and for playing a 'boring' brand of tennis," Steve Tignor wrote on tennis.com during a Wimbledon special in 2018.
WIMBLEDON THROWBACK: Borg's crowning glory | Evert wins battle of the best
"Graf and Sanchez Vicario closed the tournament with the perfect response: a two hour, two minute test of wills, skills, nerves, and, yes, fitness that was never dull."
Contrasting styles
Graf was the statuesque reigning queen of Wimbledon, having already won five Wimbledon titles. Sanchez Vicario was the scrappy challenger, who invariably raised her game against the German.
WIMBLEDON THROWBACK: Edberg bags bragging rights over Becker
The Spaniard's breakthrough win had come in 1989, when she beat Graf, against all odds, in the final of the French Open.
The two had clashed in the final of the US Open in 1994 and the French Open only a few weeks before the Wimbledon finals. While Sanchez Vicario took the title in New York, Graf emerged champion in Paris.
Sanchez Vicario, seeded second, had overcome fellow Spaniard and defending champion Conchita Martinez in the semi-final and was quick off the blocks in her first singles final at Wimbledon.
On a hot day in London, when temperatures soared over 38 degree Celsius, the Spaniard started with some sizzling tennis.
WIMBLEDON THROWBACK: Graf's hat-trick, Novotna's heartbreak
She played some solid, aggressive, pro-active tennis in the first set, losing just four points on her serve to pocket it 6-4, in only 30 minutes.
Through the fortnight, Graf had struggled with a back injury, and was injected with anti-inflammatory drugs before the finals. But the German overcame that, and her pumped opponent to hit back and win the second set 6-1.
ALSO READ: 'Partying like potatoes during a global pandemic,' Kyrgios remonstrates
The match remained on an even keel till 5-5. Even as Graf tried to power her forehand and move her opponent side to side, Sanchez Vicario was always there, pushing her to hit one more ball. They tried to expose each other's weaknesses with enticing slices and spins, drops and lobs.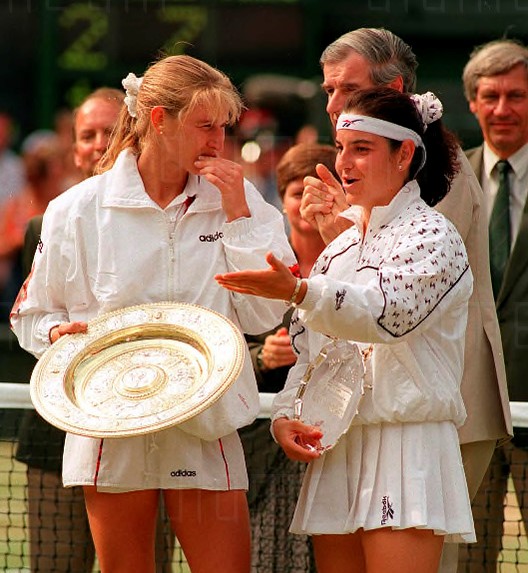 Epic game
The clash reached a crescendo in the 11th game of the deciding set, with Sanchez Vicario serving. And the Spaniard ended up serving 44 times, held eight game points and saved five break points. The players chopped and charged as the game went on for 32 points, 13 deuces and lasted just under 20 minutes.
WIMBLEDON THROWBACK: Graf back to winning ways | Roger returns to the throne
But Sanchez Vicario, who has often been likened to a Duracell bunny, finally ran out of energy. Graf, standing at the net nervously waiting for another precision pass from the Spaniard, lunged the right way and struck a forehand volley out of Sanchez Vicario's reach to set up her sixth break point.
She then closed out the epic game with her signature forehand, driving it inside-out. Her opponent got there, but just barely, and sent a tired backhand into the net. Graf, who usually gives little away, clenched her fist as she walked back to her chair. The crowd gave both players a standing ovation.
WIMBLEDON THROWBACK: Ashe cuts Connors down to size | When Sampras was taken the distance
"It's never happened to me before in my career, and never probably ever meant as much at such a stage of a match," the German, 26 at the time, said later.
"I was so tired, I was like, Wow. I was really tired to go out there and serve, and I really didn't have the feeling that this was going to be it."
Sixth crown
Even though Graf steeled herself for battle, her opponent had nothing left. The German served out the match at love to win her sixth Wimbledon title.
WIMBLEDON THROWBACK: Navratilova's reign begins | Goran becomes peoples' champion
Despite the bad back, Graf was ever-agile on court, picking out the low half-court balls and arching back to reach for the overheads. The German had exchanged the No 1 ranking with Sanzchez Vicario six times that year and went through a phase wondering whether the sport was worth putting her body through so much pain.
But on that hot summer afternoon at Wimbledon, which was physically and emotionally draining, she never backed down from the challenge.