2009: Roger Federer beat Andy Roddick 5–7, 7–6(6), 7–6(5), 3–6, 16–14
When the match was called, on a glorious, sunny, Sunday afternoon, the cameras panned to the players' tunnel. Andy Roddick, with his trademark baseball cap and tennis whites on, rushed out first, like he meant business.
Federer, with history awaiting him, sauntered out in full-length trousers and a white jacket. Cool as you like it.
WIMBLEDON THROWBACK: When Goran became the peoples' champion
The Swiss master's fluid tennis had floored Roddick on this very court, twice: the final in 2004 and 2005. Roddick, who had won a total of one set in those two matches, though had fought for his place in the 2009 final and wasn't going to roll the red carpet for Federer's coronation.
Tough road
He had beaten former champion Lleyton Hewitt 6–3, 6–7(10), 7–6(1), 4–6, 6–4 in the quarterfinals and then ended Andy Murray's run in the semifinal with a 6–4, 4–6, 7–6(7), 7–6(5) victory. Federer, meanwhile, had lost one set enroute the summit clash.
WIMBLEDON THROWBACK: Edberg earns bragging rights over Becker
With Federer on the brink of breaking his world record for most Grand Slam singles titles (14), Pete Sampras had made the trip to South West of London from America for the first time since 2002.
As if inspired by his compatriot, Roddick started the match with a purpose. He took out the first set 7-5, and then soared to a 6-2 lead in the second set tie-breaker. One point away from taking a two sets to love lead. That's where he wavered.
Nervous finish
Federer saved the first set point, on Roddick's serve, with an incredible pick-up, to gun home a backhand crosscourt winner. At 6-5, with the set back on the 26-year-old American's racquet, Roddick managed to open up the court, but with a too many options at his disposal, sent what should have been a regulation backhand volley winner way outside the lines.
WIMBLEDON THROWBACK: Navratilova begins reign at SW19
Given the slight chance, Federer pushed through, clinched the tie-breaker 8-6. Even though he won the third set, also through a tie-break, things weren't getting easier for Federer.
New-found resilience
Across the net was the same old Roddick, with his monster serve and an enthusiastic attacking game, but with a new-found resilience. Federer couldn't quite bully the American from the back of the court, like he had done in their past matches, and eventually deflate him.
This was the match where Roddick, a year younger to Federer, competed as an equal.
Having put the second-set wobble behind him, he fought through the third set bravely and then took the fourth 6-3. Up until then, there had been only two breaks of serve, and Roddick owned both.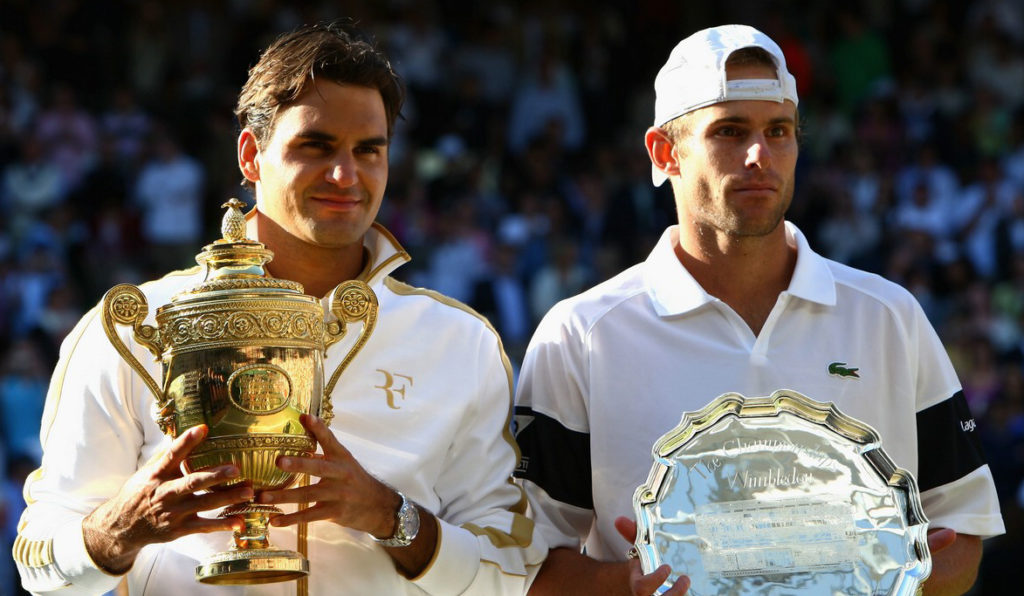 Tug-of-war
The fifth set turned into a tug-of-war; neither player ready to concede an inch. Roddick, serving behind, hung in there bravely. In fact, it was the American who had the first opportunity to break through, when Federer fell behind 15-40 at 8-8.
But the Swiss dug out of that hole with two impeccable serve and volley points and played some high-quality, clutch tennis from there on. By the four-hour mark, Roddick's mental fatigue, from the sheer exhaustion of keeping up with Federer's wiles, was beginning to show.
ALSO READ: How Roddick helped Isner win the longest match
The Swiss pushed Roddick to deuce at 11-11, then again at 13-13. After 29 games that went on serve, Federer broke the Roddick serve for the first time in the match. A contest that had seen 107 winners from Federer, and 74 from the American, ended with Federer forcing a forehand error from Roddick.
The match lasted for four hours and 17 minutes, and 77 games, which remains a record for the most number of games played in a Grand Slam final.
Champion again
It was a kind of effort that matched the heft of the achievement: it brought Federer his 15th major title, one more than Sampras' all-time record tally. It was also the first time that the Swiss had completed a clay-grass double, having won the French Open only months earlier to complete his career Grand Slam.
WIMBLEDON THROWBACK: Graf denies Sabatini in front of royalty
"I tried, sorry Pete," a tearful Roddick joked during the trophy ceremony.
"Tennis is cruel," surmised Federer.
Only a year earlier, he had played his heart out on Centre Court, and seen it turn to dust. But the Swiss had quashed those 'End of an Era' forecasts and returned as the Wimbledon champion.