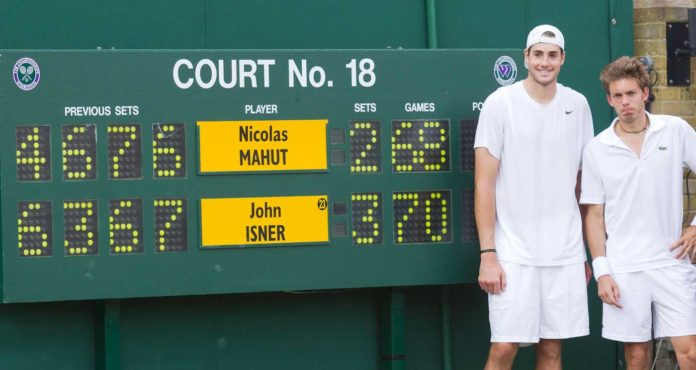 Nothing spectacular was expected when 23rd seed John Isner met a qualifier, Nicolas Mahut on Court 18 at Wimbledon 2010. It was a first round match, and crowds had come to watch the more established names – Roger Federer, Rafael Nadal, Andy Roddick, and even the two rising stars Novak Djokovic and Andy Murray.
Again, there was nothing unexpected when the Isner-Mahut tie went into a fifth-set, nor when play was suspended on the first day.
ALSO READ: Federer not done yet, feels Rosset
By the end of the second day though, it had become what is arguably the most gripping first round tie ever played at Wimbledon. On court, there were two players who refused to be broken. At 32-all in the fifth set, the match became the longest ever played. At 47-all, the scoreboard stopped working. And by the time play was suspended on the second day, at 59-all, you still couldn't guess who'd win.
But as the drama on court was made to halt, it continued to ensue in the locker-room.
Isner, then 25, was struggling. That's when former world no 1 Andy Roddick decided to intervene.
WIMBLEDON THROWBACK: Goran's unlikely win | Navratilova begins reign
"I walked through the door and Andy Roddick was flying out," recalls Craig Boynton, Isner's coach at the time, to ATPTour.com. "Andy was unbelievable. He was so gracious. He says, 'CB what do you need? Do you need Dougie Spreen (Roddick's trainer) for the night? Do you need the physio? What do you need? What do you need?'
"At that point I didn't know. He goes, 'You need food!'"
The story goes that while Isner's team worked on helping the 6'10 American to ease the pain in his sore body and blistered feet, Roddick organised and sent them "10 to 12 bags," as Boynton describes, of chicken parmigiana, pasta and pizza from an Italian restaurant nearby.
Roddick, the 2003 US Open champion knew a thing or two about long matches. He did after all, lose out to Federer 16-14 in the fifth set of the Wimbledon final the previous year.
ALSO READ: Revised ATP schedule not safe for players, says Murray
"He just said, 'Make sure John eats. When he wakes up at 3 a.m., make sure he eats. Just have him eat, eat, eat,'" recalls Boynton. "That was a huge part of getting John up and running the next day, getting the nutrients in him. I'll always be thankful to Andy for doing that."
On day three of the extraordinary match, the duo began where they had left off – refusing to be broken.
But after 216 aces combined, 168 games held in a row, and a fifth set that lasted eight hours and 10 minutes (more than the entire six hour 36 minute semi-final between Isner and Kevin Anderson at Wimbledon 2018), Isner finally broke Mahut's serve.
ALSO READ: Kyrgios, Becker exchange blows on Twitter
In an excruciating, but entertaining match that lasted 11 hours and 5 minutes and was the longest in tennis history, Isner walked out with a 6-4, 3-6, 6-7(7), 7-6(3), 70-68 win.
And Roddick played a significant part in it, from the sidelines.