Even the 2020 US Open that began with a promise of being 'different', nothing as bizarre could be expected. Novak Djokovic had entered the US Open hoping to close in on Roger Federer's record tally of 20 Grand Slam titles – Djokovic has 17.
But the World No 1's US Open ended in disqualification as he struck a line judge, albeit accidentally, in the throat.
ALSO READ: Top seed Mladenovic dropped from doubles draw
In the fourth round clash against Pablo Carreno Busta,  Djokovic had failed to convert on a triple set point when the Spaniard was serving at 4-5. He then lost his serve in the next game, effectively handing his opponent a chance to serve out the set.
In a fit of anger, Djokovic struck the ball, without looking, at the backboard, but it struck a lineswoman on the throat.
Upgrade your serve with our FREE guide
Though he pleaded his case to the Tournament Referee Soeren Friemel, he was made to default the match. Djokovic was not only removed from the tournament, he will also lose all the prize money and ranking points earned at the US open.
Running away?
Moreover, the World No 1 was seen leaving the site shortly, without offering an explanation to the officials or facing the media.
ALSO READ: 'I'm super proud of Tsitsipas,' says Osaka
"He should have faced up to it and apologised and accept he made a mistake. But by in essence running away from it, it's just going to go on even longer," said Tim Henman, who was disqualified from doubles at Wimbledon in 1995 for inadvertently hitting a ball girl.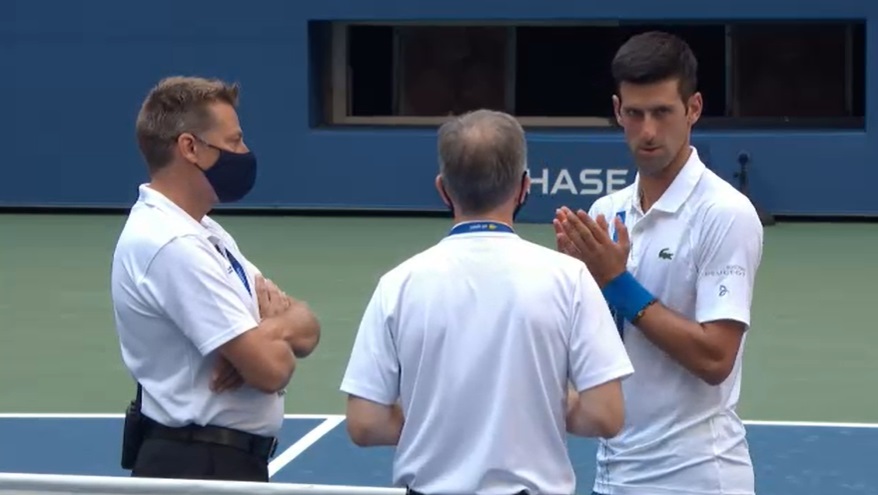 "We wouldn't want to see the best player in the world go out of the tournament in these circumstances but you have to be responsible for your actions on the court."
ALSO READ: Zverev knocks out Mannarino after delay drama
Djokovic did later issue an apology on social media.
Going by the book
Tennis legend Martina Navratilova said that the incident was unbelievable but by the book.
"Unbelievable what just happened. Novak Djokovic defaulted for inadvertently but stupidly hitting a linseswoman in the throat with a ball and the officials had no choice but to default," said 18-time singles major winner Navratilova.
LET ME SAY THIS LOUDLY! Anyone who blames the lines lady for the default of Novak….. STOP! The lady had NOTHING to do with the default! Repeat! Nothing!!! Ok!!!! ITS A RULE! There was NOOOOO WIGGLE ROOM ON THIS! NONE!!

— Rennae Stubbs (@rennaestubbs) September 7, 2020
ALSO READ: Djokovic cares about well-being of other players, says Zverev
Carreno Busta, who now advances to the quarterfinal of the US Open, sympathized with his rival.
"I was a little bit in shock," the Spaniard said.
"I never expected this moment playing against Novak. Of course I think it was not intentional. It was just a moment. I broke his serve and he throws the ball. I think it was bad luck. He never wanted to hit the line umpire. The rules are the rules. The referee and the supervisor did the right thing but it is not easy."
ALSO READ: '11 players in close contact with Paire to continue at US Open'
When asked about the incident, Alexander Zverev said, "If it had landed anywhere else – we're talking about a few inches – he would have been fin e. Very unlucky. There's no grand slam champions left in the draw. It's going to be one of the young guys, I think. Now is the time when I think it gets really interesting."
Here are my thoughts on the Novak Djokovic default.

First I hope the line judge is okay.

The rule is the rule. It is unfortunate for everyone involved, but in this specific situation the default was the right call. #USOpen

— Billie Jean King (@BillieJeanKing) September 6, 2020
Past imperfect
Though this is the first time that Djokovic has been defaulted, he has somewhat of a history of letting his frustration boil over on the court. At the 2016 French Open, when playing against Tomas Berdych, he flung the racquet in frustration, nearly hitting a line umpire. Later that year, at the ATP World Tour Finals, he hit a ball into the crowd.
ALSO READ: Federer, Nadal not in support of Djokovic-led breakaway player body
The Serb scoffed at a reporter when asked about the incident in London, saying the media was always 'picking' on him.
"You guys are unbelievable," he said. "You're always picking these kind of things. I'm still not suspended, so I'm not close (to hitting a spectator). It could have been (serious), yes. It could have snowed but it didn't."
ALSO READ: Djokovic miffed at 'unfair' shot clock start
Djokovic's worst nightmares seemed to come true on Sunday as the Tournament Referee deemed his offence serious enough to disqualify him.
"He would know the rules," former British player Greg Rusedski said. "At 33 years of age you know what the situation is and what's going to happen. I feel bad for him in one respect, because he's lost his opportunity to win his 18th major."
ALSO READ: Bautista Agut slams decision to close roof during Djokovic clash
It has been a difficult year for Djokovic, who started 2020 with a glorious title triumph at the Australian Open. Rather than being in the news for chasing history, the Serb has been running away from controversies ever since the lockdown started.