Adrian Mannarino's US Open singles campaign may be over, but it wasn't without drama.
The French player is one of the seven placed under an 'enhanced protocol' plan because he was in close contact with Benoit Paire, who tested positive for Coronavirus ahead of the US Open. Mannarino has had to cope with restricted movement at the hard-court Slam because of it, but things seemed to come to a head on Friday as he was preparing to take on Alexander Zverev in the third round.
ALSO READ: Thiem sees red over Red Bull can
"I was preparing to go on court at 2.30pm," Mannarino explained.
"The tour manager came to talk to me and explained the situation that the state department of health took over the city. The city allowed me to play on Sunday but the state took over this decision to say that I've been exposed to a positive case so I should be quarantined in my room and not be able to go on the court and play my match today.
ALSO READ: 'I'm super proud of Tsitsipas,' says Osaka
"I gave my coach my phone and just said try and see what's going on, I'll let you handle these things, I'm just trying to focus and be prepared as if I'm going on court at 5. If I'm in a position to be able to play, I just want to be ready."
Zverev was informed of the situation and agreed to wait around till it was sorted out.
Learn more about tennis tactics with our FREE guide
World No 1 Novak Djokovic, who recently formed a breakaway player body called Professioanal Tennis Players Association, also tried to pull some strings so the French player could get on court.
"I was communicating with his coach for a few hours and trying to help, speaking to the ATP," said Djokovic.
ALSO READ: '11 players in close contact with Paire to continue at US Open'
"I was also trying to get to the people that are in the highest positions in New York state, trying to get to the governor of New York because I understood he was the only one who could revert the decision."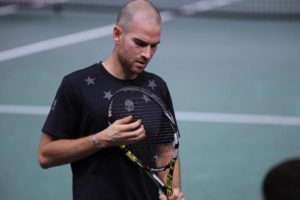 Eventually, after negotiations by the ATP and the USTA with the New York State department, Mannarino was allowed to play his match at around 5 pm New York time at the Louis Armstrong Stadium. Though he won the first set, Mannarino, the no 32 seed, went down 7-6 (4), 4-6, 2-6, 2-6 to Zverev.
US Open: 'Supermoms' on the rise, Murray bows out
"I'm thankful to all these people who have been trying to get me on court today," said Mannarino, who has been restricted in a 'bubble within a bubble' at the US Open.
"Around 4.30pm I heard that I have been allowed to go on court. Unfortunately, I lost the match but I'm happy I was on court."
ALSO READ: Djokovic cares about well-being of other players, says Zverev
Fifth seed Zverev told ESPN's Tom Rinaldi on the court: "I was told that there was very little chance we were going to play. They said, yeah, there is a chance at 5 o'clock, but I was just kind of waiting around and seeing, I was very relaxed. Obviously for me, as a player, and for a fellow player, I was happy that he was able to play."