Alexander Zverev has lauded Novak Djokovic's efforts in forming a new player body, the Professional Tennis Players Association, over the weekend.
Ranked No 1 in the world, Djokovic resigned from his post as the ATP Player Council president last week and formed the PTPA, designed to address player grievances and to give players bigger say in the decision-making process.
ALSO READ: 'I want my freedom back,' fumes Mladenovic
"I think it's great that we can be more united," Zverev told reporters after his four-set win over American teenager Brandon Nakashima at the US Open on Wednesday.
"I have to give credit — whether somebody signs the paper or not, that's in their decision. But I have to give credit to Novak and to Vasek, because a World No. 1 has more things to do than do some player association.
Learn more about tennis tactics with our FREE guide
"He has made enough money. He doesn't need to worry about that. He doesn't need to worry about anything, but he does. He does worry about the well-being of other players. He does worry about the wealth of our sport and stuff like that. I think I have to give a lot of credit to him for taking the time and doing these things."
Djokovic, and Vasek Pospisil, who will be the co-presidents of the breakaway player body believe that the ATP structure is 'flawed'.
ALSO READ: Osaka making a statement on and off the court
While players like Denis Shapovalov, Matteo Berrettini and Sam Querrey are confirmed to have signed with the PTPA, the two biggest voices against it are that of Roger Federer and Rafael Nadal.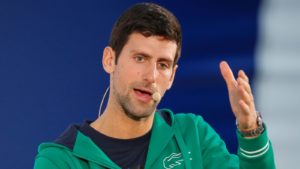 The day the PTPA was going to be formally announced, Federer and Nadal, along with four more players, wrote to the ATP players asking them to proceed with caution. They said that there are too many unanswered questions with regards to the PTPA structure and motives and called for a more 'united' front.
ALSO READ: '11 players in close contact with Paire to continue at US Open'
"We have spoken about this project several times in the past," said Djokovic about his fellow Big 3 members, Federer and Nadal.
"I have reached out to them before we made it (the PTPA) official, before we gathered with all the players on the Grandstand," he added.
ALSO READ: Federer, Nadal not in support of Djokovic-led breakaway player body
"They were very much aware of what is going to happen. I respect completely their choice that they don't want to be involved in it at the moment. They don't think it's the right time. That's fine. That's their opinion. I disagree with that."