Amidst the moments of greatness and celebration of tennis, there are also the flashes of disputes and disagreements. LoveTennis.com looks at some of the controversies that have left a lasting memory on US Open history.
ALSO READ: Bautista Agut slams decision to close roof during Djokovic clash
2018: Serena Williams' meltdown in the final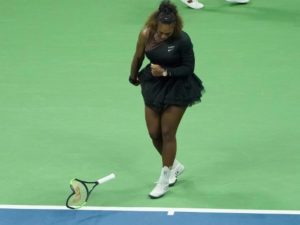 The first set went on without incident, as Serena Williams played first-time finalist Naomi Osaka for the US Open title in 2018. In the second game of the second set, chair umpire Carlos Ramos noticed Williams' coach Patrick Mouratoglou gesturing to his ward, and the umpire issued a warning. She immediately confronted the umpire saying "I don't cheat to win. I'd rather lose."
With Williams up 3-1, the American's serve was broken. In frustration, she broke her racquet, which prompted Ramos to issue a second warning and docking her a point.
During the changeover Williams told Ramos that "you owe me an apology," and "you will never do another one of my matches."
With Osaka up a break at 4-3, during the changeover, Williams continued to berate Ramos, this time calling him a "liar" and "thief," which Ramos perceived as code violation for verbal abuse. Since this was Williams' third violation, she was docked the entire game, meaning that Osaka was now up 5-3 in the set.
The Japanese would then serve out for the title to win the match 6-2, 6-4.
ALSO READ: Djokovic resigns as ATP Player Council president, to form new body
2018: Alize Cornet issued warning for changing shirt on-court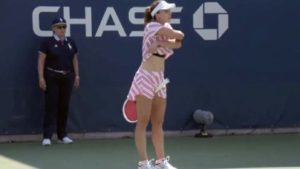 Before Serena Williams could question officials' double-standards between men and women, the argument had already sparked during Frenchwoman Alize Cornet's first round match against Swede Johanna Larsson.
With the heat-rule in play, Cornet decided to head off court for a breather between the second and third sets. When she returned she noticed she had inadvertently worn her shirt backwards and took it off and corrected it while on court. Chair umpire Christian Rask issued her a warning for unsportsmanlike conduct, which prompted a barrage of criticism from players and fans alike, citing that men get away scot-free despite changing their shirts on court.
The organisers later issued an apology and clarified that all players, regardless of gender, are allowed to change their shirts on court.
Countdown to US Open: A walk through history
2009: Serena Williams' foot-fault and default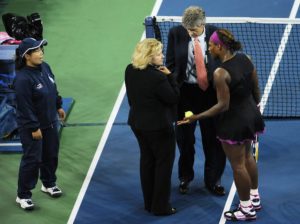 Second seed Serena Williams had lost the first set 4-6 and was serving at 5-6, 15-30. On her second serve, the line-umpire called a foot fault giving Williams' opponent in the semi-final, Kim Clijsters two match points. The American started gesticulating at the line-umpire, allegedly yelling profanities and threatening to "shove a tennis ball" down her throat. The lineswoman subsequently notified the chair umpire. Though it is not clear what Williams had shouted, cameras picked up her saying "I didn't say I would kill you! Are you serious?" in her conversation with officials (who were called on court), the chair umpire and lineswoman.
Since Williams had already been issued a warning earlier for racquet abuse, the unsportsmanlike conduct warning she would get as a result of the exchange meant she would be docked a point – the match point to Clijsters.
ALSO READ: Tricky US Open draw for Serena Williams
2008: Roddick and Djokovic's pre-match, post-match feud
Days before his quarterfinal match against Novak Djokovic, Andy Roddick brought up the Serb's questionable medical timeouts during his fourth round five-set win over Tommy Robredo. The American quipped that Djokovic has had all sorts of ailments – two rolled ankles, a hyperextended hip, stomach-ache, laboured breathing. Roddick also claimed Djokovic might have been infected by bird flu, SARS and come in contact with anthrax.
After Djokovic went on to beat Roddick in four-sets, in the post-match interview on court, he decided to shoot back at the American.
"You know, Andy was saying I have 16 injuries in the last match. Obviously I don't."
As the crowd started booing him, he continued: "They're always against me because they think I'm faking everything, so it's all right. That's not nice, anyhow, (for Roddick) to say in front of the crowd that I have 16 injuries and that I'm faking it."
In an interview five years later, Roddick described that he waited for Djokovic in the changing rooms and held the Serb up against a locker in an altercation.
ALSO READ: Don't understand the criticism against Djokovic, says Becker
2006: Sharapova's alleged on-court coaching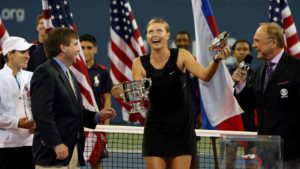 In the women's singles final between five-time Grand Slam champion Justine Henin and 19-year-old Maria Sharapova, cameras caught Yuri Sharapov holding a banana on two occasions, opening up allegations of illegal on-court coaching. Till date, on-court coaching is not allowed at Grand Slams.
Sharapova though brushed off the claims explaining that her father was just trying to remind her to eat.
Countdown to US Open: Breakthrough stars | One-Slam wonders
1983: Stefan Edberg's stray serve and the fallen umpire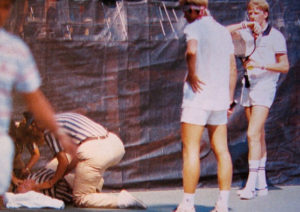 In the Junior Boys singles final against Australian player Simon Youl at the 1983 US Open, Stefan Edberg inadvertently sent a serve straight at line-judge Richard Wertheim, hitting him in the groin. The umpire then fell off his chair and hit his head on the hard surface. Wertheim slipped into a coma and would never recover, eventually passing away five days later.
As the match later continued, Edberg won the title to become, till date, the only junior player to have won a Calendar Slam.
Countdown to the Open: Who's the richest of them all? | Did you know these tennis rules?
1979: Nastase's tantrum against 'slow' McEnroe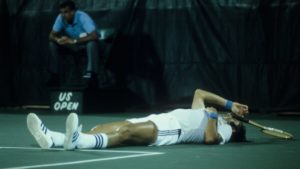 During their second round match, Ile Nastase lay down on the baseline and pretended to sleep in protest against his opponent John McEnroe taking too long between points. The high-strung match saw the Romanian docked a point in the third set and then a game in the fourth for stalling and arguing. Nastase eventually defaulted the match, prompting a near-riot situation in the stands, as crowds started throwing cups and cans on court to protest against the umpire's decision. After 20 minutes, the match was restarted with a new umpire.
Learn more about the two-handed backhand with our FREE guide