The US Open has been the springboard for many careers. LoveTennis.com looks at the US Open breakthrough stars: players in the Open Era who won their first ever Grand Slam at the major. This list consists of players who have won more than one major overall.
Men's Winners
1968: Arthur Ashe
At the 1968 US Open, then 25-year-old Arthur Ashe became the first new winner of a Grand Slam in the Open Era. The win also made him the first ever black male player to have won a major. He would later win the 1970 Australian Open and 1975 Wimbledon titles, becoming, till date, the only black male player to have won these Slams. The US Open centre court is also named after him.
1971: Stan Smith
Known more famously world over for his line of shoes, Stan Smith is a two-time singles and a five-time doubles Grand Slam winner. He had already won two doubles titles (US Open 1968 and Australian Open 1970) before winning the 1971 singles event at the American Slam. A year later he'd win the Wimbledon Championships.
Learn more about tennis tactics with our FREE guide
1972: Ilie Nastase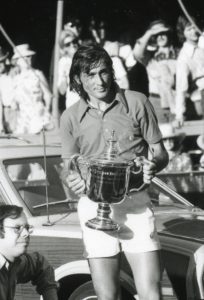 When the ATP ranking system was formed in 1973, Ilie Nastase became the first ever men's World No 1. By then though, he had already won both his Grand Slam titles, the first coming at the 1972 US Open, where he beat Arthur Ashe in a thrilling five-set final, followed by his Wimbledon triumph a year later.
ALSO READ: Countdown to the Open: Did you know these tennis rules?
1979: John McEnroe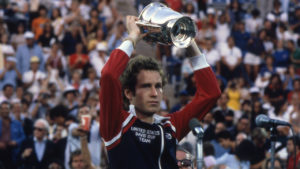 Tennis' original 'Bad Boy' eventually raked up seven Grand Slam singles titles. His most successful major though was the US Open, which he won four times. It was also where he won his first major, back in 1979, aged just 20.
1990: Pete Sampras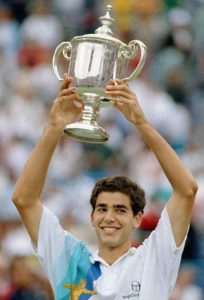 For seven years, Pete Sampras held the record for winning the most number of Grand Slam titles, 14. However, when he won his first, at the US Open in 1990, aged 19 years and 28 days. He is the youngest man to win the American Slam. The record still stands today.
1997: Patrick Rafter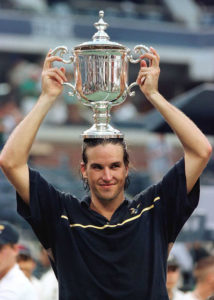 Patrick Rafter's maiden major title at the 1997 US Open made him the first Australian since John Newcombe and Margaret Court in 1973 to have won the American Slam. Rafter beat Brit Greg Rusedski in the 1997 final, and then got the better of compatriot Mark Philippoussis in the US Open final a year later. The only other times he'd reach the final of a Grand Slam was at Wimbledon in 2000 and 2001, losing to Pete Sampras and Goran Ivanisevic respectively.
ALSO READ: Shutterbug Tsitsipas enjoys 'making a living' out of photography
2000: Marat Safin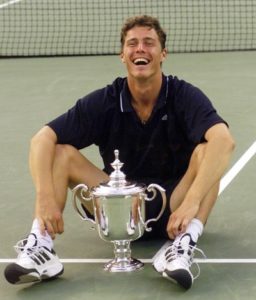 The powerful Russian was 20 when he beat Pete Sampras at the US Open final in 2000 to win his first ever Grand Slam title. The triumph laid the path for him to become World No 1. Five years later, he'd win his second major at the Australian Open, beating home favourite Lleyton Hewitt in the final.
2001: Lleyton Hewitt
In only his third main draw appearance at the US Open, Lleyton Hewitt pulled off straight-sets wins over former World No 1s Yevgeny Kafelnikov (semi-final) and Pete Sampras (final). Later that year, at 20 years, eight months and 26 days, he became the youngest to reach the World No 1 spot. He'd later go on to win the 2002 Wimbledon title. He is the last Australian man to win a Grand Slam title.
2012: Andy Murray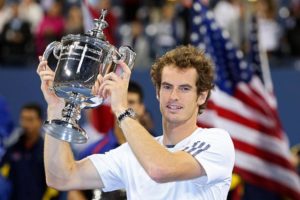 At the 2012 US Open, 25-year-old Andy Murray entered his fifth Grand Slam final and had to battle Novak Djokovic for four hours and 54 minutes before he became the first British man since Fred Perry in 1936 to win a major title. He'd go on to win two more titles, at Wimbledon in 2013 and 2016.
ALSO READ: Have to lower expectations, says Murray on winning return
Women's winners
1968: Virginia Wade
Virginia Wade's 1968 US Open triumph made her (along with Arthur Ashe in men's singles at the same tournament) the first first-time winner of a Grand Slam in the Open Era. Then 23, Wade's maiden Slam came after she beat defending champion Billie Jean King in the final. She then went on to win the 1972 Australian Open and at Wimbledon 1977 (her last major title), became the last British woman to win her home Slam.
1979: Tracy Austin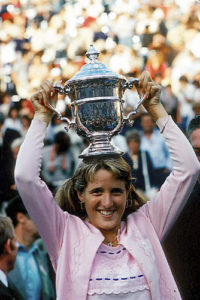 The US Open's youngest female champion was three months short of her 17th birthday when she beat four-time defending champion Chris Evert for her first Grand Slam title – she was younger than the Junior US Open winners that year. By 1980, she'd rise up to the World No 1 spot before winning her second and last singles major at US Open 1981.
ALSO READ: Hope tennis doesn't bring in fake fans like NBA: Azarenka
1998: Lindsay Davenport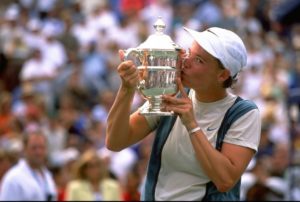 The tall hard-hitting player from California finished her career in 2010 with three majors to her name. The first however came at her home Slam in 1998, when she beat Swiss teenager and defending champion Martina Hingis in straight sets. Thereon, the former World No 1 added the Wimbledon 1999 and Australian Open 2000 titles to her tally.
1999: Serena Williams
The greatest player in the Open Era is just a title short of Margaret Court's all-time Slam record of 24. Till date, Serena Williams has seven Australian Open titles, won the French Open thrice, Wimbledon on seven occasions and the US Open six times. Her mammoth tally of 23 majors though started at the US Open in 1999, where she, then 17, beat defending champion Lindsay Davenport in the semi-final before beating World No 1 Martina Hingis in the final.
ALSO READ: 'Less pressure on Serena Williams at US Open'
2004: Svetlana Kuznetsova
Then just 19, Svetlana Kuznetsova beat compatriot Elena Dementieva in only the second all-Russian Grand Slam final. The Moscow-native was the ninth seed at the event, and won the title after dropping just one set, in the semi-final against Davenport. The former World No 2 went on to win the 2009 French Open (against Dinara Safina in the third all-Russian final), along with two doubles titles at the Australian Open in 2005 and 2012.
2005: Kim Clijsters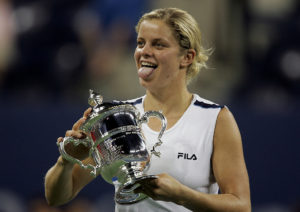 The Belgian had risen to World No 1 in August 2003, but had to wait till the 2005 US Open to win her first major. Two years later, aged 23, she decided to retire. She became a mother before returning in 2009 and won back-to-back US Open titles, followed by the 2011 Australian Open title. Now a mother of three, the four-time Slam winner has come out of retirement again and will be playing in her first major, at the US Open, in eight years.
ALSO READ: I still have good tennis left in me: Clijsters
2018: Naomi Osaka
The current World No 10 Naomi Osaka is a two-time Slam winner. The first however, came in the controversial 2018 US Open final against Serena Williams. The youngster then went on to win the Australian Open a few months later. Aged 22, the Japanese player is expected to add many more titles to her tally.
ALSO READ: Osaka on top as tennis dominates Forbes rich list