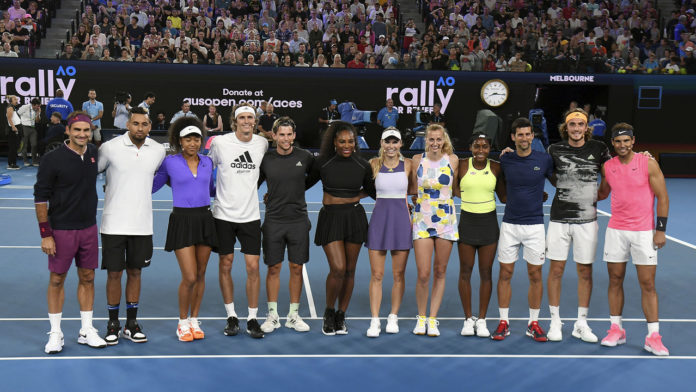 It has been a challenging year to say the least. But through the tough times, people's compassion and generosity has kept the world going. Here are a few examples of how ATP players made a difference outside the tennis court:
Bushfire relief
The year got off to a tough start as Australia lost millions of acres of land to bushfires.
ALSO READ: Players who bid farewell to tennis in 2020
Australian player Nick Kyrgios got the ball rolling to support those affected by the bushfires by pledging $200 per ace he served this year. It started a movement called #Aces4BushfireRelief, with many players joining in to make their own financial pledge.
ATP announced an AU$ 725,000 (US$ 500,000) donation from ATP players towards the WWF's Australian Wildlife and Nature Recovery Fund as part of the bushfire relief efforts.
I'm kicking off the support for those affected by the fires. I'll be donating $200 per ace that I hit across all the events I play this summer. #MoreToCome #StayTuned

— Nicholas Kyrgios (@NickKyrgios) January 2, 2020
It created for emotional play in Australia. Kyrgios said, "When I'm playing, at the moment, I'm playing for a lot more than myself. I feel like I'm getting the best out of myself with that."
Upgrade your serve with our FREE guide
Ahead of the Australian Open, Rafael Nadal, Novak Djokovic, Roger Federer, Dominic Thiem, Stefanos Tsitsipas, Alexander Zverev and Kyrgios participated in the Rally For Relief alongside WTA stars, like Serena Williams, Naomi Osaka and Caroline Wozniacki, raising nearly AU $5 million for the Victorian Bushfire appeal.
To the point
At the start of the season, Canadian youngster Felix Auger-Aliassime announced his #FAAPointsForChange campaign, in which he would donate $5 for every point he won in 2020, with the money going to EduChange, partnering with CARE to support the protection and education of children in Togo.
ALSO READ: Kei Nishikori marries longtime girlfriend Yamauchi
BNP Paribas pledged to donate $15 for every point Auger-Aliassime won.
"This year, more than ever, every point will matter," Auger-Aliassime said at the campaign's launch. He won a total of 4904 points this season.
Covid-19 relief
Roger Federer and his wife Mirka donated one million Swiss Francs (USD $1.02 million) to vulnerable families in Switzerland in the global fight against COVID-19.
ALSO READ: Maria Sharapova gets engaged to Prince Harry's friend
Federer announced that his foundation would donate $1 million to provide meals for young children and their families in Africa while schools are closed due to the COVID-19 pandemic
Novak Djokovic and Jelena Djokovic announced a €1 million donation through the Novak Djokovic Foundation to help Serbia's battle against COVID-19.
ALSO READ: Viktor Troicki named Serbia's Davis Cup captain
Rafael Nadal took measures to ensure the safety of players stranded at the Rafa Nadal Academy by Movistar. The 20-time major champion made arrangements for players at his facility who could not return home during the lockdown.
After winning the Mutua Madrid Open Virtual Pro final, Andy Murray announced that his €45,000 prize money would be split equally between the United Kingdom's National Health Service (NHS) and the Player Relief Programme.
ALSO READ:Former coach sues Dominic Thiem for 450,000 euros
Grigor Dimitrov, the 2017 Nitto ATP Finals champion, donated ventilators to the hospital in his hometown of Haskovo in a bid to help those affected by COVID-19 in Bulgaria, his home country.
Feeding the poor
Two-time Arthur Ashe Humanitarian of the Year winner Aisam-ul-Haq Qureshi made sure the most vulnerable members of the society did not go hungry during the lockdown.
ALSO READ: Federer in 'race against time,' drops retirement hint
Through his foundation Stop War Start Tennis, Qureshi helped to supply ration bags for 1,000 families that were unable to work and earn their daily sustenance. He has since raised enough money to support thousands more.
Masha Allah another distribution as part of the #StarsAgainstHunger movement. I want to thank everyone who has been helping us in this cause. Rations were distributed in the area of Bata Pur Lahore.

Join the movement for a #HungerFreePakistan and Give It All pic.twitter.com/lchOB05XGI

— Aisam ul Haq Qureshi (@aisamhqureshi) June 30, 2020
Each ration bag consists of flour, rice, oil, grains, tea, milk and soap, and can feed a family of five. Qureshi got out in the field himself, making deliveries to those families.
Season Of Giving
The Novak Djokovic Foundation has launched a Season of Giving campaign for the third consecutive year in the hopes of raising €100,000 to help open a preschool in both Vajska and Ljubis, two villages in Serbia.
ALSO READ: Seb Korda training with super coaches Agassi, Graf
World No. 1 Novak Djokovic and his wife, Jelena Djokovic, will match all donations.