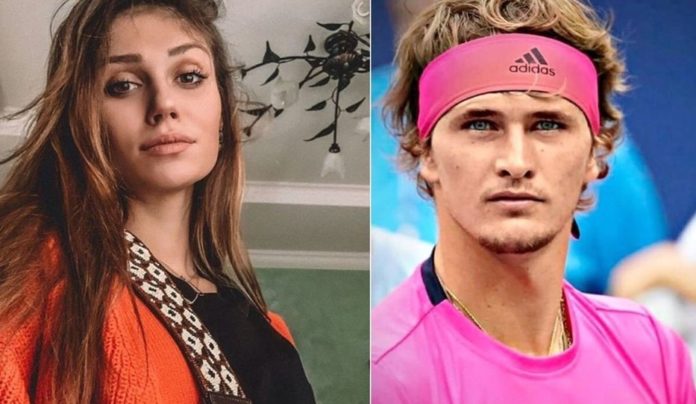 Olga Sharypova has hit back hard after Alexander Zverev's claim that her physical abuse allegations against him were 'unfounded' and 'simply not true.'
In the past few days, there have been some sensational revelations about the German tennis player's personal life.
ALSO READ: Zverev denies allegations of physical abuse
First, one of his former girlfriends, Brenda Patea, said she was pregnant with his child. A few hours later, another ex-girlfriend, Sharypova claimed that Zverev was abusive towards her during their year-long relationship.
The 23-year-old Zverev issued a statement on Thursday dismissing Sharypova's accusations.
Upgrade your serve with our FREE guide
"They (physical abuse allegations) make me very sad," Zverev said. "We have known each other since we were children and shared many experiences together. I very much regret that she makes such statements. Because the accusations are simply not true. We had a relationship, but it ended a long time ago."
Sharypova however, did not hold back.
ALSO READ: Becker in trouble for concealing Wimbledon trophy
"'Simply not true.' I don't know if you wrote it or whoever is handling your Instagram, but to this day you had no courage to explain yourself directly," she replied via the social media site.
"Because I'm not lying and we both know it. I'm not afraid to tell the truth, are you? I want to show all men, that let themselves act badly towards women, that we are not an accessory, we are not +1, we are not dolls, you can't do whatever you like.
ALSO READ: Djokovic stunned by lucky loser Sonego
"And if you thought I'd be quiet after all I've been through in that relationship, you were wrong. You failed to give me answers personally. So I did the same."
Good on Olya for opening up. It would have been pretty scary! I just hope that she can handle all the negativity and what's to come next. #ibelieveOlya #WhyIStayed except #whySheStayed #stopviolenceagainstwomen

— Daria Gavrilova (@Daria_gav) October 29, 2020
Former tennis player Sharypova, who knows Zverev since her junior tennis days, added that she had received an outpouring of love and support after she came out with her side of the story.
Australian WTA player Daria Gavrilova also tweeted her support.
ALSO READ: Colored tennis players viewed differently, says Nick Kyrgios
"Thousands of messages where you tell your stories or just letting me know that you support me and believe me," the 23-year-old Sharypova said.
"I genuinely didn't expect that. I was mentally preparing to have this battle alone (not counting my friends and family). I was sure of getting a lot of negative responses, and I'm stunned and moved to tears at all these positive messages. You're amazing."