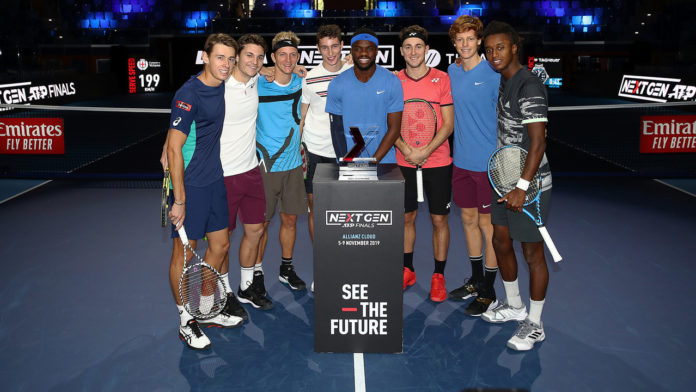 Taylor Fritz
The American has been improving rapidly the past couple of years. With his big serve and forehand, he is a dangerous player especially in the later rounds of tournaments when he builds momentum. Look out for him to shine during the grasscourt season and on the faster Hard courts.
Alex De Minuar
The young Australian is one of the fastest players on the tour. Similar in style to his idol Leyton Hewitt, Alex is one of the top prospects from the next Generation. His best results are likely to come on hard court and he might have a good run at the 2020 Australian Open if he gets a good draw.
Stefanos Tsitsipas
The young Greek player made waves at the end of 2019 by winning the ATP world tour finals. With his aggressive all-court play he can defeat anyone when he is playing well. Look out for him on the faster surfaces which suit his aggressive style of play. He is the most likely Player from the next generation to win a slam in 2020.
Dani Medvedev
The young Russian was the player of the US open summer swing. Undefeated in over 20 matches he showed the world he is a future star. With his consistent game style, he is suited to any surface but will likely have his best results on hardcourt.
Felix Auger Aliassime
The young Canadian is one of the most athletic players from the next generation. A solid baseliner, he is also capable of finishing off points at the net, a huge advantage in today's game. Felix reached the semi-finals of the 2019 Miami Masters Series event before losing to John Isner. His semi-final run at the Queen's club on grass he showed he could play well on any surface. Look out for him during the grass and the hardcourt swing.
Denis Shapovalov
The young Canadian has a huge advantage over most of his peers due to him being a left-hander. Denis has made waves in the tennis world for the past couple of years with his jumping single-handed backhand. His best results have come on Harcourt but with his game style, he will also suit faster courts such as Grass or indoors.
[vc_video link="https://youtu.be/ipn0_ISQkPI"]