Former Grand Slam champion Stan Wawrinka recently admitted that he is close to the end of his career and may well adopt the 'Last Dance' as his slogan for the final stretch of his career.
After beating Dan Evans 6-3, 7-6 (3) in the first round of the Paris Masters, the Swiss player had said that his career was on his final legs.
ALSO READ: Aisam-Ul-Haq Qureshi to stage silent protest at Paris Masters
"I'm close to the end of my career," the 35-year-old Wawrinka said in Paris on Monday.
"But I also believe I have one last push that I really want to, again, one more time push myself to the limit, make the sacrifice that you need to make to be at my top, and I'm trying to do that."
Sharpen your forehand with our FREE guide
The Swiss star, currently ranked No 20 in the world, was one of the few players to consistently challenge the Big 3 during his prime years.
He defeated Rafael Nadal to win his first major at the 2014 Australian Open.  Wawrinka then got the better of Novak Djokovic in the final of the 2015 French Open and 2016 US Open to add to his Grand Slam tally.
ALSO READ: 'Big scare' for Thiem's coach Massu in Vienna
But the Swiss player has struggled to get into peak form since undergoing knee surgery in 2017. With injuries plaguing him, Wawrinka hasn't even been able to reach the semi-final stage of a major in the last three seasons.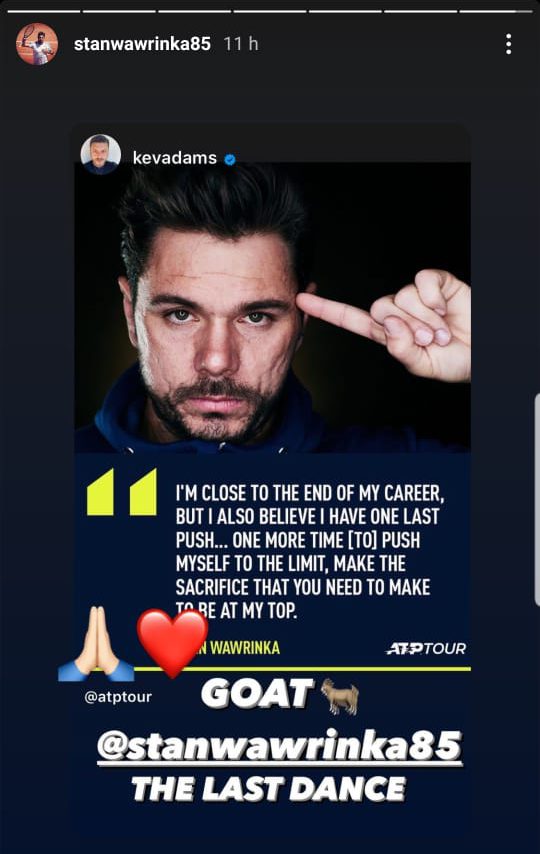 On reading the statement he made in Paris, French actor Kev Adams wrote, "GOAT, @stanwarinka85 The Last Dance." It was obviously inspired by the hugely popular docu-series based on basketball legend Michael Jordan.
Wawrinka thanked him for the comment in his Instagram story.
ALSO READ: Djokovic 'did not feel like playing' after the death of Serbian bishop
The 35-year-old is hoping for a strong finish to the season at the Paris Masters and will take on America's Tommy Paul in the second round.
"I started the new year really well, and then we were in lockdown for many months," he said. Wawrinka hasn't won any titles this year and has compiled a win-loss record of 12-7 in 2020.
ALSO READ: I'm not a slave to routines, says Rafael Nadal
"I'm feeling good, but not yet at the maximum I feel, and I'm going to take the next few weeks to try to push it for next year."