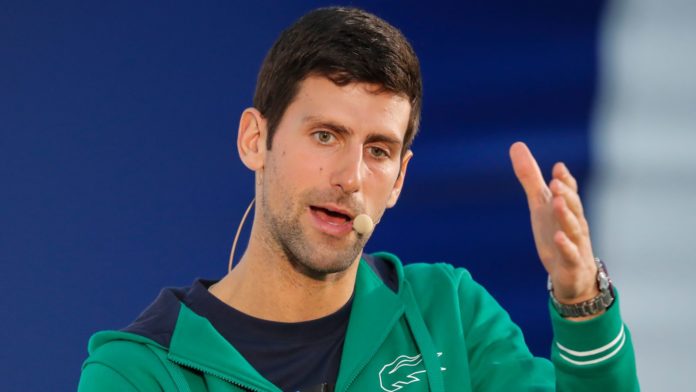 After his heart-breaking loss at the Olympics, World No 1 Novak Djokovic revealed that he had been competing with "more than one" injury.
The Serbian had travelled to Tokyo in the pursuit of becoming the first male player to win a Golden Slam – winning all four Grand Slams and the Olympics gold in the same year. It's an achievement that has been accomplished just once, by Steffi Graf in 1988.
ALSO READ: Alexander Zverev captures gold at Tokyo Olympics
The No 1 seed in Tokyo made a solid start and was the player to beat. In the semi-final though, he came up against Alexander Zverev who put up an inspired display after losing the first set.
The German came back to win the match 1-6, 6-3, 6-1, and later beat Karen Khachanov 6-3, 6-1 to win the gold.
Upgrade your serve with our FREE guide
Losing in the semi-final meant that the 34-year-old still had a shot at a medal. But in the bronze-medal playoff against Spain's Pablo Carreno Busta, amidst a series of outbursts, Djokovic lost 4-6, 7-6(6), 3-6.
"I am dealing with injuries. Not one, more than one," he said after the match.
ALSO READ: Novak Djokovic loses cool as Tokyo dreams turn sour
With the gold medal lost, he's still in the running to win a Calendar Slam, which will make him the first male player since Rod Laver in 1969 to do so.
"I hope that it won't stop me from going to the US Open, which is my next big goal."
ALSO READ: 'I can finish the match but I can die,' says Daniil Medvedev
"I do not regret coming or giving my all. How can I have regrets, it is normal when you are at the Olympic Games representing your country.
"Unfortunately, for the third time at the Olympics, I am losing in the semi-finals. I won the medal only once. I mean, 'only', a medal is a medal, but for my standards and expectations and wishes, not an ideal outcome."
ALSO READ: Brutal heat in Tokyo leads to another player retirement
This was the third Olympic Games in which Djokovic lost in the semi-final. He lost in Beijing 2008 to Rafael Nadal, to Andy Murray in London 2012, and now Carreno Busta in Tokyo 2020. In Beijing though, he did manage to win the bronze medal after beating James Blake in the playoff.
Till date, that was his only medal at the Olympics.
ALSO READ: Naomi Osaka lights the Tokyo Olympics cauldron
An Olympic gold is the only thing his closest rivals Nadal and Roger Federer have won in some capacity (Federer won the doubles title with Stan Wawrinka in 2008) but Djokovic has not.
He later pulled out of the mixed doubles bronze medal playoff, for which he had teamed up with Nina Stojanovic, against Ashleigh Barty and John Peers of Australia the bronze medal.
ALSO READ: Andy Murray pulls out of Tokyo Olympics singles event
"I apologise to all the fans in Serbia who I have disappointed," he said.
"I know everyone expected a medal, I did too. I feel bad for Nina because we did not fight for a medal in mixed, but my body said 'enough.' I have played under medications and abnormal pain and exhaustion.
ALSO READ: Gael Monfils and Elina Svitolina get married
"But again, my heart is in the right place, because I know that I gave my all. I love to play for my country. Unfortunately, I did not get the result I wanted, but that is sport, we move on."
The next Olympics will be in three years, in Paris. Djokovic will be 37 by then, but he's not ruling out competing at the event.
ALSO READ: 'Roger Federer will not win a Grand Slam again,' says John McEnroe
"Three years… Not that far, but on the other hand it is, since I do not have 25 years anymore," he added.
"I do not see the finish line of my career. Olympics, Davis Cup, ATP Cup, and the Grand Slams, those are the tournaments that inspire me the most to go on. It is a privilege to play for Serbia, I want to play in Paris. If I am there, I hope to win a medal."