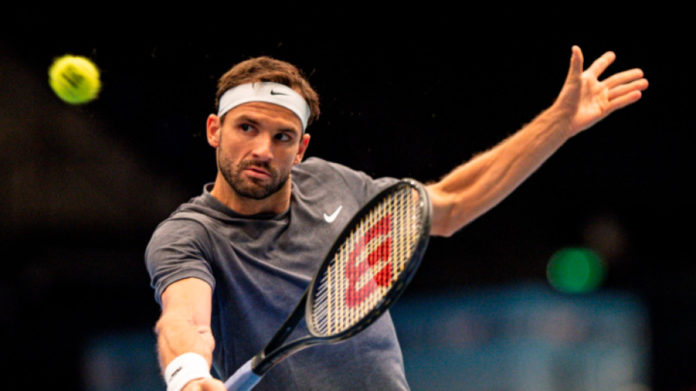 Grigor Dimitrov shrugged off a one set deficit to defeat third seed Stefanos Tsitsipas 6-7(5), 6-4, 6-3 at the ATP 500 event in Vienna on Thursday to register his first top-10 win of the season.
Dimitrov had a 5-0 advantage in the first set tie-break before he lost seven points in a row to concede the opener.
ALSO READ: Zverev denies allegations of physical abuse
"It's never easy to come out of a situation like that," Dimitrov said later.
"I was focussed, but he went for it. In the tie-break a few close calls here and there went his way. (There was) not much else I could have done, I felt. But I kept on believing and kept on doing the right things."
Upgrade your serve with our FREE guide
The Bulgarian, a former ATP Tour Finals champion, has had a tough past few months. He had tested positive for Coronavirus in July this year during the Adria Tour and said that it has been a tough road to recovery.
He lost in the second round of the US Open and went down 6-3, 7-6(9), 6-2 to Tsitsipas in the fourth round of the French Open earlier this month.
ALSO READ: Zverev's ex-girlfriend pregnant with his child
"(I) stayed in the match, which I think was the most important thing. He's such a great competitor," Dimitrov said. "You always have to be ready. I was just focussing on the most simple things of the game."
Rather than losing focus, and heart, after the first set, the Bulgarian regrouped and continued to attack. He broke the Tsitsipas once in the second set and twice in the third to clinch victory in two hours and 14 minutes.
ALSO READ: Becker in trouble for concealing Wimbledon trophy
Dimitrov's last top-10 win had come at last year's Paris Masters, when he got the better of Dominic Thiem. He will take on Britain's Dan Evans in the quarterfinals.
"Every good match that you play gives you a certain amount of confidence. Clearly today was very taxing on the body. Hopefully I'm going to have enough time to recover for tomorrow's (Friday's) match," the 29-year-old added.