Novak Djokovic was named the greatest of all time by his childhood idol Pete Sampras.
The Serb secured a record seventh year-end No 1 recently, breaking the tie with Sampras who ended six seasons as the World No 1.
ALSO READ: Daniil Medvedev fumes at ball boys during ATP Finals opener
"Seven years, for him, I'm sure he sees it as a bonus to all the majors that he's won," Sampras told atptour.com.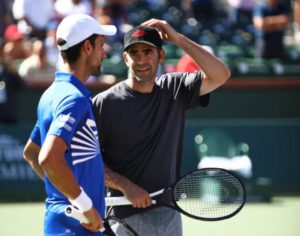 "But I think he'll appreciate it more as he gets older. He did it at a time where he dominated two of the greats, in Roger and Rafa, and he handled the next generation of players very well – all at the same time."
Upgrade your serve with our FREE guide
The Big 3 in men's tennis — Roger Federer, Rafael Nadal and Djokovic- are not only the creme de la creme of their generation but own almost all record in the sport and are in the race for the greatest of all time.
They are currently tied at 20 Grand Slam titles each.
ALSO READ: WTA seek justice for missing Chinese player Shuai Peng
"I do think what Novak's done over the past 10 years, winning the majors, being consistent, finishing No. 1 for seven years, to me it's a clear sign that he is the greatest of all time," the 14-time major champion said.
"Obviously, it's a thrilling sensation breaking the record of Pete Sampras, who was my childhood hero growing up," Djokovic said.
ALSO READ: Iga Swiatek breaks down after WTA Finals loss
"He was the one I looked up to the most, the one that got me going with tennis. At times it seems surreal to really be where I am, and I'm blessed and grateful to be in this position."