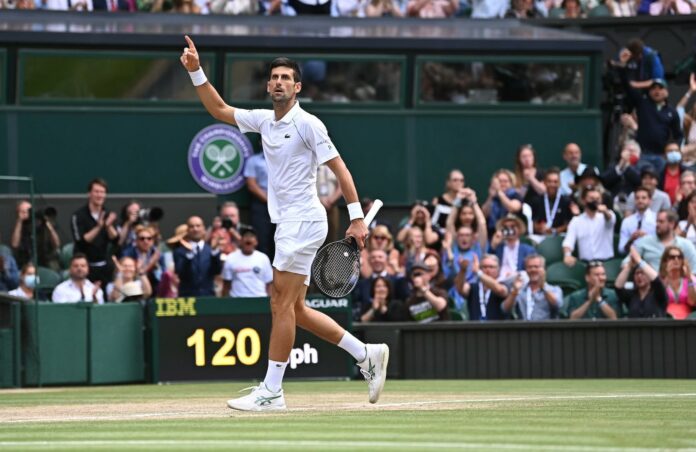 Novak Djokovic defeated Matteo Berrettini 6-7, 6-4, 6-4, 6-3 in the Wimbledon final on Sunday to clinch a historic 20th major.
The World No 1 thus went level with Roger Federer and Rafael Nadal for most number of men's singles Grand Slam titles.
Congrats Novak on your 20th major. I'm proud to have the opportunity to play in a special era of tennis champions. Wonderful performance, well done!

— Roger Federer (@rogerfederer) July 11, 2021
It was also his sixth Wimbledon title and he celebrated it, like he usually does, by snacking on some grass.
ALSO READ: Ash Barty wins the Wimbledon crown
"I was a seven year-old boy in Serbia, constructing Wimbledon trophies from improvised materials that I could find in my room," the 34-year-old Serb said during the on-court interview. "To be standing with a sixth Wimbledon [title] is incredible."

"I have to pay a great tribute to Rafa and Roger as legends of our sport, the two most important players in my career and why I am the player I am today," he said.
Upgrade your serve with our FREE guide
"They made me realise what I needed to improve, mentally, physically and tactically.
"When I first broke into the Top 10, for three or four years, I lost most of the big matches against these guys and something shifted at the end of 2010 and the beginning of 2011. The past 10 years have been an incredible journey and it's not stopping here."
For the first time since Rod Laver in 1969, Novak Djokovic will enter the US Open with the first three Grand Slams of 2021.

See you soon, Novak 👋 pic.twitter.com/XKGnSkaPlP

— US Open Tennis (@usopen) July 11, 2021
Djokovic's first Grand Slam title had come at the 2008 Australian Open. He has now won three of the four majors this year and is well on track to win a calendar Grand Slam.
The historic victory, over three hours and 23 minutes, saw Djokovic become only the fourth man in the Open Era (since April 1968) to capture three straight Wimbledon titles, after Federer, Bjorn Borg and Pete Sampras.
Most Grand Slam Singles Title (All Time)
| | |
| --- | --- |
| Position | Player |
| Novak Djokovic (SRB) | 20 |
| Rafael Nadal (ESP) | 20 |
| Roger Federer (SUI) | 20 |
| Pete Sampras (USA) | 14 |
| Roy Emerson (AUS) | 12 |