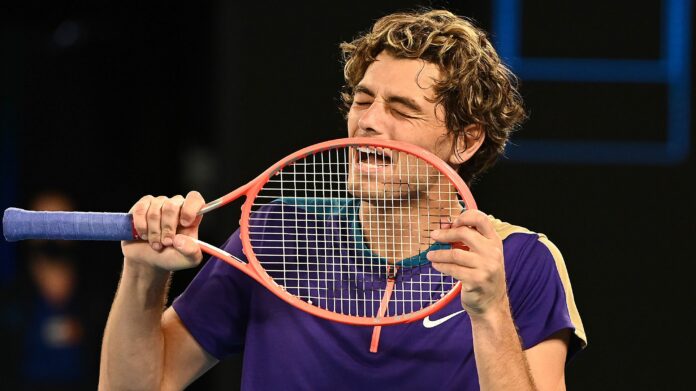 American tennis player Taylor Fritz believes players should be allowed to smash racquets without worrying about the fine as it brings an added element of drama to the game.
"You should be allowed to smash a racquet on court and not have to worry about getting a $20,000 fine the next day," the 23-year-old was quoted as saying on tennis.com. "Anyway, people want to see that."
ALSO READ: Bernard Tomic takes aim at 'irritating' ball kids
Fritz later went on to social media and gave the example of Nick Kyrgios, who seemingly brings fans to the stadium, to emphasise his point.
"Seeing a lot of people pretty upset about this," World No 36 Fritz tweeted.
Sharpen your backhand with our FREE guide
"Not saying I wanna break racquets, I very rarely do. I'm just saying the drama brings fans… there's a reason certain people and matches always have high viewership Man shrugging @NickKyrgios matches always packed."
A story on the website suggests that the younger players are more expressive and bringing a lot more personality to the court.
ALSO READ: 'I don't want it to be my last Wimbledon,' says Andy Murray
"In terms of the younger generations there is more emotional transparency, so to say," Novak Djokovic is quoted as saying before the Italian Open.
"I personally am fond of that. I like when there is charisma. . .when you can see a human side of the tennis players."
ALSO READ: Trailblazer Ons Jabeur makes more history
In the last 12 months, two players – Djokovic at the US Open and Fabio Fognini at the Barcelona Open—were defaulted.
Meanwhile, there have been only four players have been disqualified in the history of men's tennis.
ALSO READ: Wimbledon wildcards for Andy Murray, Venus Williams
"They try to demoralize anyone and shame them into thinking that having a personality makes you a bad person," another American player Ryan Harrison tweeted, in response to Fritz.
"They want robots. And they have proven their inability to look after the best interest of the sport.
ALSO READ: Toni Nadal believes Rafa will stop Djokovic Grand Slam bid
"How many times has Nick been fined while hes bringing in more attention than virtually anyone else to the sport. 'Conduct detrimental to the game' while simultaneously trying to capitalize on what he brings to the game. Ironic."
During the pandemic, the one player who has sulked more than any other has been Benoit Paire.
ALSO READ: Andy Murray breaks down after Queen's Club opener
The Frenchman has said he's only interested in the paycheque and that he didn't give a damn about tennis. As a result, the French Tennis Federation has barred him from competing at the Olympics.