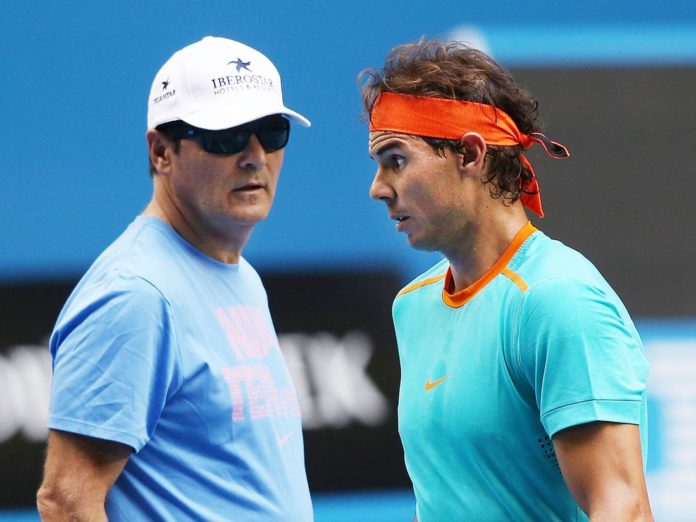 Rafael Nadal's former coach and uncle Toni Nadal believes the Spaniard will win one of the next two majors to deny Novak Djokovic a calendar Grand Slam.
On Sunday, Djokovic won the French Open and became the first male player in the Open Era to win each of the four majors at least once.
ALSO READ: Andy Murray breaks down after winning at Queen's Club
He is now only one short of Rafael Nadal and Roger Federer's record Grand Slam tally of 20.
Having won the first two majors of the season, the World No 1 also said that he is now eyeing the 'Golden Grand Slam'. It entails a player winning all the four majors of the season and the Olympics gold.
Sharpen your backhand with our FREE guide
Steffi Graf is the only player to have achieved that feat in 1988.
"We saw a good final that brings Novak dangerously close to Federer and Rafael, in the fight to close their respective careers as the greatest conqueror of Grand Slam titles," Toni wrote in a column for Spanish publication El Pais.
ALSO READ: Caroline Wozniacki gives birth to baby girl
"The next two tournaments, Wimbledon and the US Open, will probably be decisive.
"I would not dare to venture conclusions, but I do dare to maintain the confidence that it is my nephew who raises one of the two."
ALSO READ: Roger Federer makes winning start on grass
Toni Nadal, who now coaches Next Gen star Felix Auger-Aliasimme, added that Stefanos Tsitsipas took his foot off the gas in the third set, after winning the first two, against Djokovic.
Tsitsipas, playing his first major final, went down 7-6, 6-2, 3-6, 2-6, 4-6 in a four hour 11-minute battle against the top seed.
ALSO READ: Family tragedy strikes Stefanos Tsitsipas ahead of French Open final
"The only thing that could have alleviated the disappointment of Nadal's defeat against Novak Djokovic would have been that he [Djokovic] was defeated by Stefanos Tsitsipas," Toni wrote.
"The player I saw as most capable of beating the Serbian on clay apart from my nephew was the Greek.
ALSO READ: Novak Djokovic rallies to win French Open
"In the third set, Stefanos lacked some aggression and that extra concentration more experienced players often give in the important moments.
"Djokovic increased his pace and maintained the same intensity until the end.
ALSO READ: Victoria Azarenka raises gender inequality concerns at French Open
"He went from dominated to dominator, and as the games progressed, I think we all had the feeling the scoreboard was going to be in favour of the Serbian."