In 2013, Latvian firebrand Ernests Gulbis had suggested that the Big 4 in men's tennis are 'boring' and that player interviews should be more like boxing face-offs.
"I would like interviews to be more like in boxing. OK, maybe those guys are not the most brilliant on earth but, when they face each other down at the weigh-in, they bring what the fans want: war, blood, emotion," he said.
ALSO READ: I need to start earning a living, says Millman
"All that is missing in tennis, where everything is clean and white with polite handshakes and some nice shots, while the people want to see broken rackets and hear outbursts on the court."
Red mist
It is not surprising that players like Gulbis, Nick Kyrgios and Benoit Paire are considered to be the outliers in a clean-cut era of tennis. They are all talented, and all temperamental. But these are also the players that have the potential to attract the crowds, outside the Big 4.
ALSO READ: Players don't want to become friends, says Tsitsipas
"Humans connect very well to emotions and anger – the red mist of losing control is something we all get," Andy Lane, a professor of sports psychology at the University of Wolverhampton , told the BBC.
"So when you see someone so good doing it you connect closely – and many enjoy watching it. It is child-like. It is relatable."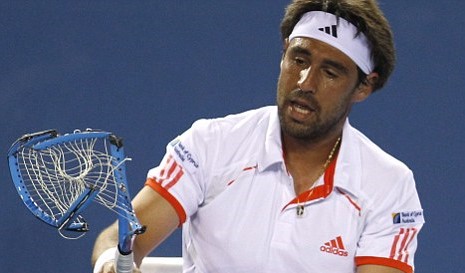 One of the more popular players of the 2002s was Marat Safin, big guy with big talent. He did win two Grand Slam titles. But after that, the stat that has come to almost define him, is the number of racquets he's broken. In a recent interview with Tennis United, it was the first query posed to him, and Safin had the answer ready, '1055'. The Russian didn't keep the count, but his racquet sponsor did.
"Not many players lose their cool during a point, they lose it at the end of a game," says Lane. "It is a strategic way of refocusing. It tends to be a racquet smash because that's the only thing they can 'blame'; they don't have any team-mates to be angry with."
Crowd pullers
Lane, who has worked with elite athletes across various sports for over 30 years, added that John McEnroe's angry outbursts were a big part of his persona and one of the reasons why his legend has endured.
ALSO READ: Kyrgios v Coric, the feud continues
"McEnroe was a showbusiness player who used anger as a crowd puller," he says.
"I think Nick Kyrgios has got a bit of that in him, even though he might not admit it. And because of it, people have heard of him, whereas they won't have heard about players around him in the rankings."
Kyrgios won't be competing at the US Open. However, Lane contends that the lack of crowds at the Grand Slam can actually translate into better behavior on court.
ALSO READ: Why Sam Stosur revealed her secret to the world
"The expression of anger can be a strategic way of releasing frustration, but it can also be a communication function and a way of entertaining the fans," he said.
"When there is no crowd, you're not frustrated because you're losing in front of a crowd, you're not communicating to anyone other than your opponent, and you're not trying to entertain a crowd."