People usually expect twins to share a special bond and be 'connected' for life. But that was far from the case for Canadian tennis player Eugenie Bouchard and her twin Beatrice.
In a sponsored video, Beatrice has shed light on their far from perfect family life and her relationship with her sister.
ALSO READ: Djokovic, Nadal lead the field at ATP Cup
Born six minutes before Eugenie, Beatrice is the oldest of four children. But the family was separated as their parents, Michael Bouchard and Julie Leclair, got divorced when they were very young.
"We're definitely not like a simple, happy, perfect family," she said.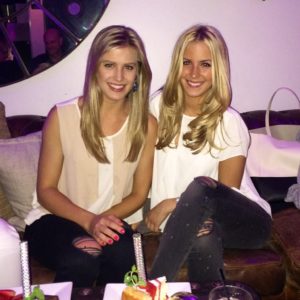 "We're far from it. My parents got divorced, they weren't happy together. Genie was with my mom pretty much her whole life and my dad was with Charlotte, William, and me.
Upgrade your serve with our FREE guide
"So we were separated, and it also created a lot of tension between my mom and me, Charlotte and Will, and then with my dad and Genie. It's still to this day not perfect at all.
"Simply due to the fact that I've been seeing her twice a year since I'm 10. Someone at the grocery store, you know I know them better than I know her, it's strange."
ALSO READ: 'If Serena had little decency, she would retire,' says Ion Tiriac
Even though the sisters rarely meet through the year, Beatrice says people assume she gets to travel the world Eugenie.
"People are like, 'why don't you just travel with her?' Or, 'Why don't you go to Wimbledon with her every year?'" says Beatrice.
ALSO READ: Sofia Kenin's management agency drops her
"Because a) I was in school and had a life to live too. And b) who was going to pay for that? She was not going to pay for that. People assume my sister will bring me everywhere. No. My sister brought me nowhere. And if I wanted to go watch her at Wimbledon, she said, 'Ok, buy your plane ticket and come see me.'"
ALSO READ: Slovakia's Baskova gets 12-year ban for match fixing
A former junior Grand Slam champion, Eugenie tasted early success on the women's circuit too. She reached the Wimbledon finals in 2014 at the age of 20. Though once touted as one of the most marketable WTA players, Bouchard hasn't quite been able to recreate that form on court.
The 26-year-old, who reached a career high of 5 in the WTA rankings in 2014, is currently ranked No 140 in the world.