Naomi Osaka walked the talk as an athlete-activist throughout the fortnight at the US Open.
Not only did she get to unveil the seven masks—each displaying the name of an African-American victim—but capped the emotional run with a stunning come-from-behind win over Victoria Azarenka in the final.
The Japanese, playing her second US Open final in three years, rallied from a set and break down to beat Azarenka 1-6, 6-3, 6-3 in Saturday's final to win her third Grand Slam title.
ALSO READ: 'Naomi Osaka's activism giving her extra motivation'
It was the first time since 1994 – when Arantxa Sanchez-Vicario defeated Steffi Graf — that the player losing the first set in the US Open women's final had gone on to win the title.
Social justice and sports do mix – and quite nicely- congratulations @naomiosaka !!! #USOpen2020 Champion!!!

— Martina Navratilova (@Martina) September 12, 2020
"I feel like two years ago, I maybe would have folded being down a set and a break," Osaka said after the match, recalling the differences between Saturday's win and her first in 2018.
Upgrade your serve with our FREE guide
"But I think, all the matches that I played in between that time shaped me and made me or forced me to mature more. Especially all the matches that I've played here were very tough.
"I think definitely I'm more of a complete player now. I feel like I'm more aware of what I'm doing."
Blazing start
Azarenka, who had beaten 23-time champion Serena Williams in the semi-final, came out all guns blazing and pocketed the first set in less than 30 minutes. The Belarrusian, whose serve looked just as lethal as her returns in the opening stanza, dictated play and ran Osaka ragged around the court.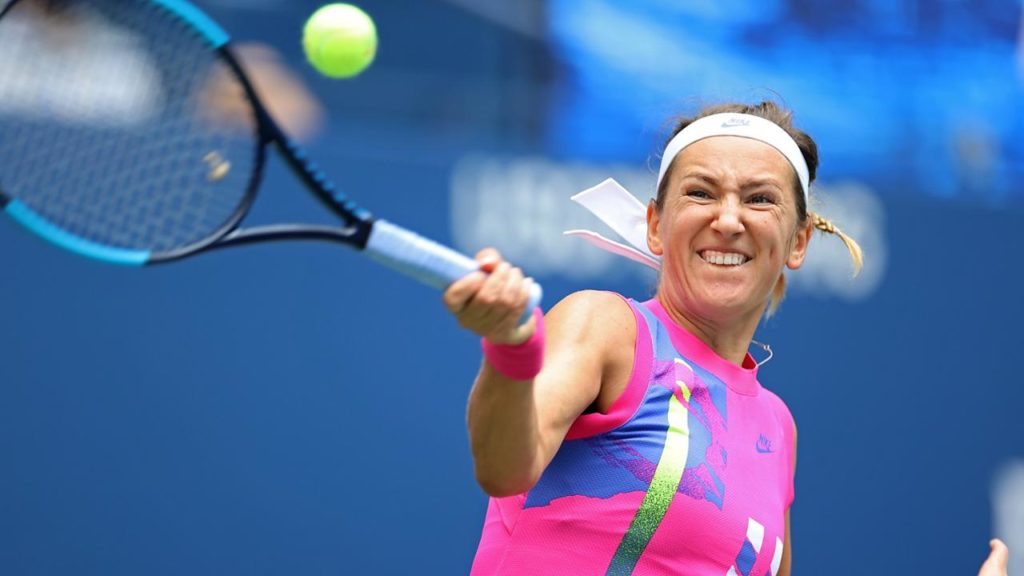 Osaka, who made 13 unforced errors in the first set, seemed shell-shocked and later admitted that she didn't want to embarrass herself by losing in less than an hour.
After falling behind 0-2 in the second set, she started finding her range, and using the big forehand more to control the rallies.
ALSO READ: 'Serena not good enough anymore to win Grand Slam titles'
"I think in the first set I was so nervous, I wasn't moving my feet," said Osaka. "I felt like I was not playing, not that I expect myself to play 100%, but it would be nice if I could even play, like, 70%. I just felt like I was too much in my own head."
Turning it around
In a complete reversal from the first set, Osaka finished the second with 16 winners to just five errors, while Azarenka made 14 winners – half in the first three games – to 10 unforced errors and won less than half of her first serve points.
Though 'supermom' Azarenka attempted a late comeback, Osaka was quick to shut it down. Cheering herself up, the Japanese served out the match at 6-3, as an Azarenka backhand crashed into the net.
ALSO READ: 'US Open is a joke, right?' Medvedev fumes
Unlike in 2018, when raucous crowds and boos pierced the New York night during her final against Serena, it was only her roar of celebration that echoed in the empty Arthur Ashe stadium.
"In the end all I focus on is what I can control on the tennis court," Osaka, who is expected to reach the top 5 for the first time since January after the result, said. "That's what I did [in 2018]. I feel like that's what I did this time."
ALSO READ: Nick Kyrgios and a series of unfortunate tweets
Osaka celebrated in her own quirky way: she asked for permission and then went ahead and lied down on the court for a while.
Soaking it all in 🤗 pic.twitter.com/YkAzTD5Mn2

— US Open Tennis (@usopen) September 12, 2020
"I was thinking about all the times I've watched the great players sort of collapse onto the ground and look up into the sky," she said of her winning moment.
"I've always wanted to see what they saw. I wanted to do it in a safer way. For me, it was really an incredible moment. I'm really glad I did it."
ALSO READ: The default rule is stupid, says Goran Ivanisevic
In a three-week span that saw her shine off the court just as much as she did on it, the Japanese No. 1 further cemented her status as a superstar not just in women's tennis, but international sport as a whole.
"I feel like everything sort of pushed me to be better. I think I played some really good tennis this week, and I can be happy about that. I also think everything off the court was definitely building up. I had some moments where I was very stressed out," Osaka said.
Congratulations @naomiosaka What a performance from a set down in the finals. Thank you for your voice and impressive tennis.

— James Blake (@JRBlake) September 12, 2020
"Honestly, I was learning a lot during all these matches that I played in the Open. But I think all in all it's the person that's very mentally strong. For me, it's one step forward because I always wanted to be that type of person."
Osaka, who will celebrate her 23rd birthday next month, is now 3-0 in major finals, having won the 2018 US Open final and 2019 Australian Open before this.