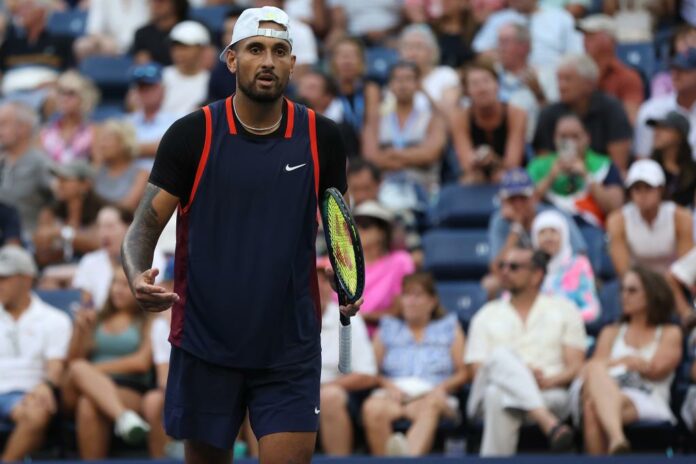 Nick Kyrgios claimed fans were smoking marijuana during his 7-6 (3), 6-4, 4-6, 6-4 win over France's Benjamin Bonzi in the second round of US Open on Wednesday.
He also unleashed a volley of expletives at members of his entourage in typically tempestuous performance.
ALSO READ: Benoit Paire in bizarre act before US Open defeat
In the second set Kyrgios, who is facing legal action from a fan he said was "drunk out of her mind" at Wimbledon, said a member of the New York crowd was smoking marijuana.
Nick Kyrgios just complained to the chair umpire at @usopen that he smelled marijuana coming from the crowd pic.twitter.com/eYDQXOb2rq

— DannyDanko (@DannyDanko) August 31, 2022
The 27-year-old swore when explaining that to the umpire and added that it could harm players who suffered from asthma, as he does.
Upgrade your serve with our FREE guide
"People don't know I'm a heavy asthmatic," said Kyrgios after the match.
"When I'm running side to side, I'm struggling to breathe, [it's] probably not something I want to be breathing in between points."
As play resumed, the umpire asked spectators to "refrain from smoking around the court".
ALSO READ: Naomi Osaka, Emma Raducanu tumble out in US Open first round
The Australian was given a code violation during the third set.
Kyrgios appeared to aim a mouthful of spit in the general direction of his box and then dropped several F-bombs at his team after suffering a break of serve.
He later said he had been taken by surprise by the resistance of world number 50 Bonzi.
ALSO READ: Serena Williams sparkles in diamond-encrusted dress
"I was literally hanging by a thread. His level today was incredible," Kyrgios said during an on-court interview.