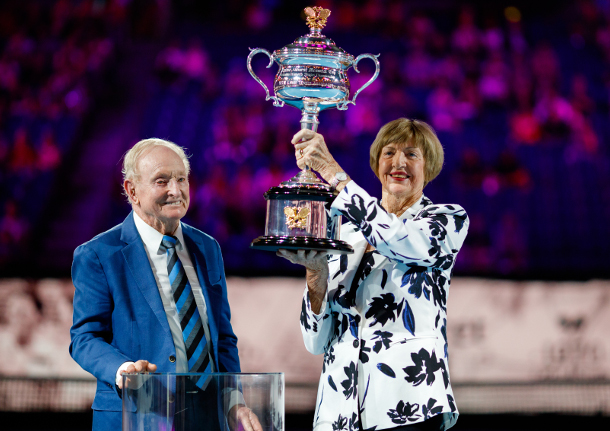 The decision to honour tennis great Margaret Court, who still holds the record for the most number of singles majors (24), during Australia Day has not gone down well with Victorian Premier Daniel Andrews.
Court, already an Officer of the Order of Australia (AO), will be made a Companion in the General Division of the Order of Australia (AC) during the Australia Day celebrations on January 26.
ALSO READ: Sunbathing and Star Wars: What players are doing in the bubble
The 78-year-old Court's achievements in tennis are undisputed: she became the first woman in Open Era to win a singles calendat Grand Slam by winning all four majors in 1970 and finished her career with a total of 64 Grand Slam titles – 24 singles, 19 women's doubles and 21 mixed doubles.
But since retirement, Court has been more in the limelight for her controversial opinions on homosexuality and same-sex marriage.
Sharpen your backhand with our FREE guide
In a sermon at Victory Life Centre in Perth in December 2019, Court, who is a pastor, said that transgender kids are 'of the devil'. It was only a few days before Court returned to the Australian Open to mark 50 years since her Australian Open triumph.
There have been incessant calls from the tennis community to rename the Margaret Court Arena, which is the second show court at Melbourne Park – the venue of the Australian Open.
ALSO READ: Tomic's girlfriend gets death threats over hair joke
In 2020, Martina Navratilova and John McEnroe had ambushed 50th year anniversary celebrations to mark her Australian Open triumph, carrying a banner on court, suggesting it be named the 'Evonne Goolagong Arena'.
Andrews, who is already weathering a storm of complaints from the Australian Open participants, slammed the decision to honour Court, saying he was, "sick of talking about that person every summer."
ALSO READ: Federer management firm Team8 parts ways with Zverev
"I do not support that. I do not believe that she has views that accord with the vast majority of people across our nation, that see people particularly from the LGBTIQ community as equal and deserving as dignity, respect and safety," Andrews said.
"But I don't give out those gongs. That's not a matter for me, that's for others. You might want to speak to them about why they think those views, which are disgraceful, hurtful and cost lives, should be honoured.
ALSO READ: Risked my life to get here, says Tomic after qualifying for Australian Open
"The vast majority of Victorians, they do not support that kind of hateful approach. They want to see us unified, they want to see us respected and respectful and they want to see people able to to live safely.
"No one has the right to take that away from anybody else and these views do that. They absolutely do. And this will come as no surprise to her, or to anyone else. It shouldn't. This has been my view, every day of my public life."