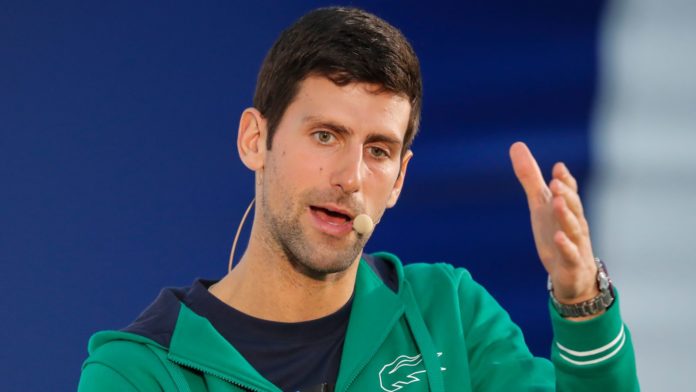 Novak Djokovic has categorically denied that he applied to rejoin the ATP Player Council and that people were desperate to portray him a hypocrite.
It was rumoured that Djokovic and Vasek Pospisil, who co-founded the breakaway player group PTPA (Professional Tennis Players' Association) back in August had applied to join the ATP Player Council. But the World No 1 said that he had been nominated for the position.
ALSO READ: Djokovic advocates best-of-three sets for tennis to 'keep up'
"I've been nominated by my fellow players, I did not pro-actively run for council," Djokovic said after his straight-sets loss to Danill Medvedev at the ATP Finals in London.
Djokovic and Pospisil had been asked to resign from the Player Council earlier in the year as they were on the verge on announcing their rebel player body. Players and tournaments have a 50 per cent ownership each of the ATP while the PTPA is a player-only association.
Sharpen your forehand with our FREE guide
On being nominated for the Player Council, which will be voted on in December, Djokovic said it showed that he had the "trust and credibility" of his fellow players.
But the ATP Board has decided that no member of PTPA or any rebel body will be allowed to sit on the ATP Player Council.
During his interaction with the Serbian press, Djokovic was more open and said that his words were being twisted again.
ALSO READ: Diego Schwartzman: From selling bracelets to battling giants
"These are political games that take place behind the scenes and you barely see anything written about it," the World No 1 said.
"What's important to write is that Novak is a hypocrite.
"It happens very often that my words are being twisted, just like in the last two days. Some people were saying that is hypocritical of me to maybe be back at the Council along with being one of the founders of PTPA. It was not my intention to be back on the Council.
ALSO READ: Nothing disrespectful about underarm serve, feels Medvedev
"Back in August the players demanded from both Pospisil and me to resign. I was saying back then and I am saying it now — I do not see a conflict there. I have tried to explain that to people, but there are certain groups that do not want to understand.
"Vasek (Pospisil) and I were nominated by a large group of players, we found out about it three or four days ago, they have asked us to accept that nomination to be on the Council again.
ALSO READ: Chocolate milk remark was a joke, says Ilie Nastase
"We accepted it with pleasure, it is an honour for us, and it says something that we were being nominated again after we were practically kicked out before. It means that we have done a good job and that many players trust us."