Naomi Osaka shares a special connection with Serena Williams, having beaten her idol in the 2018 US Open final to win her maiden Grand Slam title. But Osaka, whose father used the Williams sisters' success as a roadmap for his daughters, believes she wouldn't be playing tennis without Serena.
"I would say that if Serena wasn't there, then I wouldn't be here, and I think that a lot of players would say the same thing," said Osaka, who features on the cover of the latest issue of the iconic Vogue magazine.
ALSO READ: 'I get death threats every time I lose'
Osaka's father Leonard Francois saw the Williams sisters – Venus and Serena – at a French Open and was inspired by their success. And wanted to replicate it with his daughters – Mari and Naomi. Though he had never played tennis himself he was their first coach.
Mari's tennis career has been ravaged by injury, but his younger daughter Naomi is making a splash in the game. Osaka, whose mother is Japanese, is not only the highest paid female athlete in the world, she also won her third major this year at the 2020 US Open.
Earlier this week, Osaka was named the Sports Illustrated Sportsperson of the Year for her achievements and activism.
Sharpen your forehand with our FREE guide
But the 23-year-old Osaka believes she has a long way to go to play as well as 23-time Grand Slam champion Serena.
"There's a lot of things she's so much better at," Osaka said about her idol.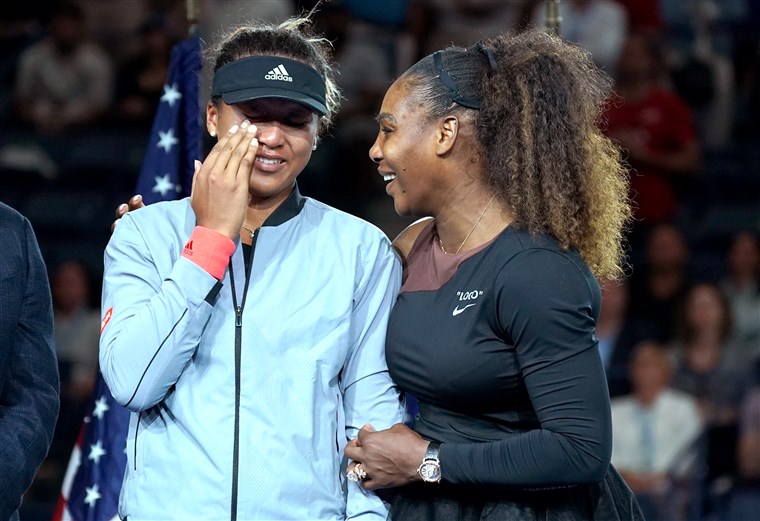 "She's more aggressive. She knows when to go for her shots. Sometimes she hits really big service returns, and I can't do that at all. Honestly, I'm kind of scared of her. Not scared scared but—I'm intimidated, and I get very shy when she's like 10 feet away from me.
ALSO READ: Zverev settles legal dispute with former agent Apey
"That really affected me at the US Open finals in 2018, but I had worked so hard for that moment, and I felt like if I were to be intimidated or show that I was scared of her, she would capitalize on that.
"When I'm stepping on the court, I have to treat her as a tennis player, not as Serena Williams. I just blocked out all my emotions and thought about playing against the ball, like every ball that came across the net was my opponent."
ALSO READ: 'Djokovic's game does not make anyone dream'
Though the 2018 US Open final descended into chaos, with Serena having a row with umpire Carlos Ramos and the New York crowd booing the ref, Osaka kept her nerve and clinched the title in straight sets.
She also won the following major at the 2019 Australian Open but admits that the pressure of being No 1 in the world got to her.
ALSO READ: Suarez Navarro returns to tennis during cancer treatment
"Every young person has a fearlessness, and once you sort of settle in, and you feel like you have all these expectations on you, you start to overthink a lot of things," she said. "Honestly, I didn't cope well."
With the pandemic this year giving her the much-needed break and a worldly perspective, Osaka returned to the court re-energised. She reached the final in her first tournament back — the Cincinnati Masters– and then won the US Open title.