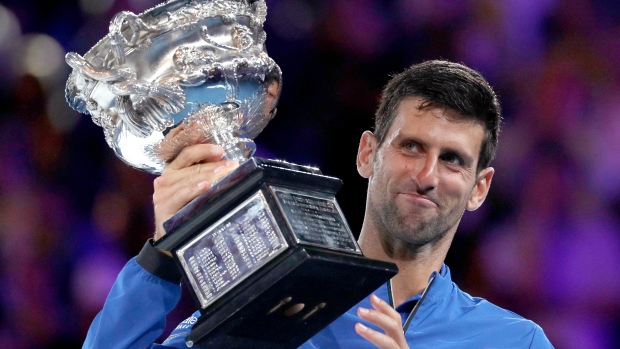 Novak Djokovic is heading into the 2020 Australian Open as the firm favorite for the Men's event, according to many tennis experts. Djokovic defeated world number one Rafa Nadal in the Final of the ATP Cup 6-2, 7-6 which helped Serbia defeat Spain to win the inaugural event.
Djokovic didn't lose a single match in the entire event, winning six singles and two doubles matches. The Serb had two three-setters which gave him valuable match time against strong opponents, something that will help him massively in his campaign to win his eighth Australian Open title.
Is Djokovic Favorite?
The top three, Roger Federer, Rafa Nadal and Novak Djokovic are all expected to go far down under. Yet it's Djokovic who starts off the event as the favorite. Having won seven times before, Djokovic's game shines on the Aussie hard courts. Indeed, he's dealt well with the conditions in the past. Djokovic also has the benefit of defeating his main rival, Nadal, just a week before the first slam begins on January 20th.
Federer decided to skip the ATP Cup and spent the time training in Dubai, in the hopes that the extra work will pay off. If Djokovic does end up facing Federer, the fact that Djokovic has already played (and won) eight matches in 2020 will give him a huge edge. Federer hasn't played a tour match since his semi-final loss to Stefanos Tsitsipas at the ATP World Tour Finals, mid-November.
Getting into a good groove during a grand slam is always tricky if you haven't competed in the warm-up events beforehand and Federer might struggle with his rhythm until the later rounds of the event.
If Djokovic ends up encountering Nadal again, he'll have the confidence on his side since he defeated the Spaniard in the final of the 2019 event in straight sets, winning 6-3, 6-2, 6-3 in a dominant display of aggressive, all-court tennis.
It looks like the main obstacle in the way of Djokovic holding the trophy yet again will be injuries or an unexpected turn in form, something we haven't seen from the man in a few years.
Who's your pick for the Men's event and why?
[vc_video link="https://youtu.be/xbDl9SzDrJo"]