Martina Navratilova has always been the one player to speak up about social issues. The tennis legend, 63 now, is extremely pleased that the new generation has picked up the baton.
WIMBLEDON THROWBACK: Navratilova begins reign at SW19
Younger players like Naomi Osaka, 22, and Coco Gauff, 16, have done their bit during the Black Lives Matter protests against racial injustice.
In a chat with BBC Radio Navratilova spoke about sport and society, from her 1990 Wimbledon final against Zina Garrison to call for change in America today:
On Coco Gauff…
"She is just so poised on and off the court, she was really brought up with great qualities and it shows how she plays and it shows how she's active now politically.
ALSO READ: No fans, No problem for Gauff
"I smile so much when I see the reach she already has now, and she will have in the future. She's one of those people that can change the world for the better, and she seems to want to do that.
"It's essential people get involved, because they're seeing how much politics can affect their lives and their freedom."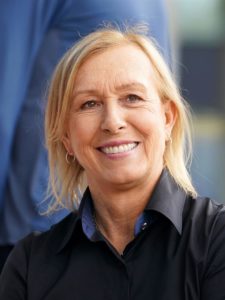 Garrison, No 4 in the world during Wimbledon 1990, still didn't have a clothing sponsor. She played in the clothes Navratilova had given her up until the final…
"It was a sad commentary on what players of color – particularly women – go through. It was my own clothing line (with Nike). I also had a hard time getting a sponsor. Hers was because she was Black, mine was because I was gay. Even as the No.1 player in the world I had a hard time getting sponsorships – so I made my own clothing line."
Sport and society…
"Sports has always been at the forefront of social change and it can be that again, with Black Lives Matter and equality for all.
WIMBLEDON THROWBACK: Steffi denies Sabatini | Roger returns to the throne
"Tennis has had its share of obstacles but we've been at the forefront of social change – and with Coco Gauff leading the charge, we're still there."
Whether Serena can beat Margaret Court's record of 24 Grand Slam singles titles (Williams is currently on 23)…
"She's getting older. Time is not her friend at the moment. She's not going to play better than she did 10 years ago but if she plays as well as she did five years ago, then she'll be okay."