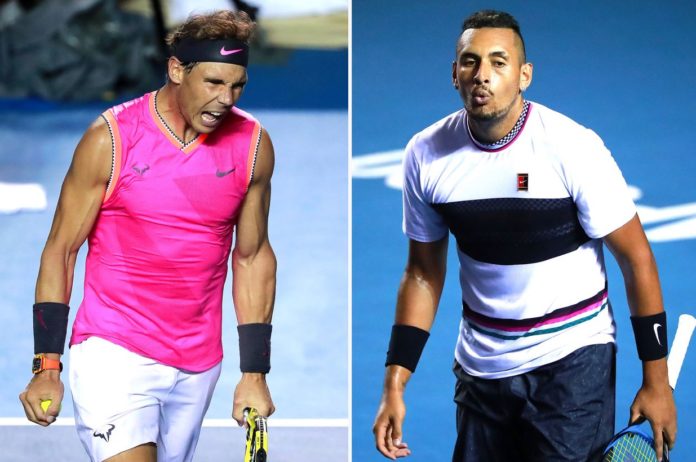 Rafael Nadal and Nick Kyrgios have not been the best of friends on the ATP Tour and have openly traded blows on and off the court, but how did it all start and when did it turn sour?
Current Situation
Earlier today Nadal was asked If he likes Kyrgios before their scheduled 4th Round Australian Open 2020 match
"I don't know…I don't know him personally to have a clear opinion.
"So my answer is, it's better to…of course it's clear that when he does stuff that in my opinion is not good I don't like, when he plays good tennis and shows passion for this game…he is important for the tour.
"When he does the the other stuff of course I don't like it"
A clearly reserved answer as there have clearly been indications that the pair do not get on after a string of spats between the pair over the last couple of years.
Earlier this week Kyrgios mocked Rafa's pre-serve routine in his 2nd round match against Gilles Simon which involved him fiddling with his pants after receiving time violations. Nadal again refused to get sucked into off-court mind games
"Honestly, I don't care at all. If it was funny, good. That's it."
How It All Began
The year 2014 proved to be a breakthrough year for 19 year old Kyrgios who announced himself onto the big stage by upsetting World No.1 Rafael Nadal at Wimbledon.
Wildcard entry Kyrgios became the first man outside of top 100 to beat a world no.1 at a Grand Slam in 22 years.
After the match Kyrgios weirdly credit his mother in an unusual manner "I saw an interview with her saying Nadal was too good, so that made me angry and that helped."
Asked what he would say to her after getting the win, he added: "I will just text her a smiley face."
The painful defeat came in the middle of a run of bad results for Nadal at Wimbledon as he lost to Steve Darcis, Lukas Rosol and Dustin Brown in early rounds the years before but Kyrgios was by far the lowest ranked.
Want Improve Your Tennis? Watch Our Coaching Videos
Nadal Gets Revenge on Clay
Two years later the pair played again this time on clay at the Rome Masters and it was time for Nadal to get a victory over the Australian – although it was a real struggle with the match lasting nearly 3hours.
At this point, there was still a level of respect between the two, with Nadal speaking positively about the young Australian and his chances of winning slams:
"Nick is an amazing player, so difficult to play against, and he has all the shots. Great forehand, great serve and a great backhand, so he's one of the toughest opponents you can have in the third round."
Their next match in Madrid soon after was a completely different affair, with Nadal showing his superiority with a crushing victory in just 72 minutes. Bizarrely Kyrgios was caught singing to Sia's 'Chandelier' during changeovers.
"I think it's not normal to win against an opponent like this because Nick is a really good opponent," said Nadal after the match.
[vc_video link="https://youtu.be/2F-MSRPrXC8″]
Trading Blows
After Madrid the next Kyrgios and Nadal's encounters were in 2017 played on hard courts: in Cincinnati which Kyrgios won and Beijing which saw Nadal destroy his opponent 62 61.
During his win in Cincinnati Kyrgios who pulled out a tweener against the Spaniard later said he finds it easier to motivate himself in the big matches
"You see me tank ridiculous amounts of matches like on back courts and stuff like that, but then you never see me do anything silly in a match like this," he explained.
"It's easier to get up for these matches. As a little kid, playing on the Centre Court of Cincinnati against Nadal, that's where the best has to come out."
Their first Final came in China with Nadal only dropping 3 games in the process. This was the first time we saw a glimpse of things to come between the pair after a wrong call denying Kyrgios a break in the opening game with the Aussie completely losing his focus and the ability to make any first serves.
Still their relationship seemed respectful and given Kyrgios' history with the likes of Stan Wawrinka – saying, "Kokkinakis banged your girlfriend, sorry to tell you that" during the change of ends in their match in Montreal.
But what came next in Mexico changed everything…
Acapulco
After complaining of being ill and losing the first set Kyrgios saved 3 match points to beat Nadal and go on to win the title that week.
In the match Kyrgios got under Nadal's skin by rushing to the net after returns and throwing in underarm serves which started to unsettle the Spaniard. Their handshake at the end of the match was awkward and cold.
In his press conference after the match Nadal took a swipe at the Australian: "He could win Grand Slams and fight the top positions of the ranking, but there is a reason why he is where he is,
"I don't think he's a bad guy, not at all. I think he's a good guy, but what he lacks is a little respect for the public, for his rival, and also for himself. I think he should improve that."
Kyrgios did not react well to the comments "'He doesn't know me so I'm not going to listen at all. That's the way I play. The way he plays, he's very slow between points."
Uncle Tony
Rafa's uncle and coach Toni Nadal, also got involved "I think it's not normal what he did the other day, what he does is not good for the game"
"He is bad for tennis and lacks education and smartness" he said.
"It's a shame because he could be one of the best players in the world.
"He is a great attacker, he can easily take the ball early but he is a bit lazy and I think he has some issues with his mentality"
This really did not go down well with Kyrgios…
No Challenges Remaining Podcast
This is where things really kicked off "This is dangerous" Kyrgios said.
"He's my polar opposite, like literally my polar opposite. And he's super salty.
"Every time I've beaten him … when he wins, it's fine. He won't say anything bad, he'll credit the opponent, 'He was a great player'.
"But as soon as I beat him, it's just like, 'He has no respect for me, my fans and no respect to the game'.
"And I'm like, 'What are you talking about? I literally played this way when I beat you the other previous times and nothing changed … When you beat me in Rome here a couple of years ago, nothing changed; I was the same person'.
"It's not a good look for you, I feel. And then Uncle Toni (Nadal) came out saying, 'He lacks education'. I'm like, 'Bra, I did 12 years at school, you idiot. I'm very educated. I understand that you're upset I beat your family again'."
Wimbledon 2019
Things took an even bigger turn for the worst between the two players in a match Nadal won in 4 sets.
In one of the rally exchanges Nadal came to the net and Kyrgios fired a forehand straight at the chest of the Spaniard,
Fortunately Nadal reacted in time and the ball hit the handle of the racquet barely missing his body.
"I was going for him" Kyrgios said, after he was asked if he should have at least apologised.
"Why would I apologise?
"I didn't hit him. Hit his racket, no? Why would I apologise? I won the point. I mean, the dude has got how many slams, how much money in the bank? I think he can take a ball to the chest, bro. I'm not going to apologise to him at all. Yeah, I was going for him. Yeah, I wanted to hit him square in the chest. Like, he's got decent hands."
Nadal reacted in his press conference afterwards "Honestly, is not about what I feel or what I don't feel, it's about we are in a game that the history of this sport is about respect and is about playing fair during the whole time"
Australian Open 2020
The pair meet in the 4th round of the Australian Open 2020 and already we have tensions rising as Kyrgios has openly mocked Nadal's serve routine in one of his matches in front of the Australian Open fans this week.
Both the players will be desperate for the win with a real grudge match on our hands it is guaranteed to be a real spectacle.
Who do you think will win? Leave your comments below
[vc_video link="https://youtu.be/KRr-tSOYIe8″]