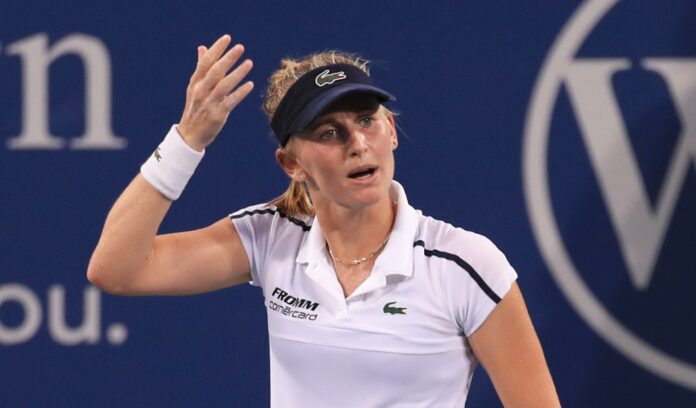 World No 38 Jil Teichmann took to social media to vent after Switzerland lost their Billie Jean King Cup final 2-0 to Russia. The Swiss felt the Russians 'cheated' to win their fifth title.
The tie started with Russian player Daria Kasatkina giving her team a win in the opening rubber by beating Teichmann 6-2, 6-4.
ALSO READ: ATP Tour Finals – The top 8 who made the cut for Turin
Russia's No 1 player Anastasia Pavlyuchenkova was then expected to play Swiss No 1 Belinda Bencic in the second singles rubber of the tie. However, less than 30 minutes before the match was to start, team Russia replaced Pavlyuchenkova with Liudmila Samsonova.
The switch, however, was well within the tournament rules.
Upgrade your serve with our FREE guide
Russia's No 4, currently ranked 39 in the world already had a 2-0 record over Tokyo Olympic champion Bencic this year, and she went on to beat the Swiss 3-6, 6-3, 6-4 to secure the title for Russia.
🥳 RTF are 2021 Billie Jean King Cup World Champions! 🥳#BJKCupFinals pic.twitter.com/npXvmS3kKI

— Billie Jean King Cup (@BJKCup) November 6, 2021
The Swiss team however were left fuming by the switch.
"Is it a compliment if you're opponent has to cheat to beat you? 10 min before walk on…" Teichmann penned on Twitter.
Is it a compliment if you're opponent has to cheat to beat you? 10 min before walk on… 🧐 #BJKFinal@BJKCup @BJKCup_es @swiss_tennis @BelindaBencic

— Jil Teichmann (@jilteichmann) November 7, 2021
During the post-match press conference, she said: "It's sad that we are actually talking about this. We should only be talking about the tie, how we played. They played awesome tennis and we have to accept that but still we're here talking about something that has nothing to do with tennis, so it's just sad."
ALSO READ: Novak Djokovic secures historic year-end No 1
Bencic too made her feelings clear to the press after the match.
"I think it was ugly to be honest and I just think in the end I think the good will win and we will come back and we will win this title," she said.
"That was slightly unfortunate I thought because the whole tournament has been held in a very good spirit. Did that throw us off? Yes it did," said Swiss captain Heinz Guenthardt.
ALSO READ: Naomi Osaka back on court, hints at return
"Are we going to come back? You bet we're going to come back. And they are a young team, they're only getting better. And I don't think it has something to do with losing the finals. We simply would like to win this cup."
Legitimate injury
Pavlyuchenkova, the 2021 French Open finalist, has had several problems with her knee during the season.
On the day of the final, she had trouble with the patellar tendinitis in her left knee. It was examined by an independent doctor on site at the O2 Arena in Prague, before she was ruled out for the tie.
ALSO READ: Roger Federer, the only tennis player in all-time rich list
"I already felt yesterday evening, but I wanted to try my best, and I tried this morning during warmup and I still believed that I could do it, but I just couldn't even serve, so that was the decision," she said.
"I think in sports, especially I've been there for a while, I think you have to learn and also accept to lose, and respect," she added.
Her teammate Veronika Kudermetova also acknowledged the injury.
ALSO READ: Chinese tennis star accuses top politician of sexual assault
"It happened at the last moment," said Kudermetova. "Because Nastia she felt good, she had a good three matches, a very good quality and she wanted to play today because she is the first player in our team, and she tried to warm up and she started to feel the knee and it's worse, she couldn't serve, she couldn't jump."