Despite the Coronavirus situation still clouding the tennis season, the ATP has added the European indoor swing to its provisional calendar.
The ATP World Tour Finals, to be held in London from November 15-22, will anchor the final six-week stretch.
ALSO READ: No defending champions at US Open for the first time since 2003
The 50th edition of the season-ending finale, which features the best eight singles players and doubles teams of the year, will, as of now, take place behind closed doors.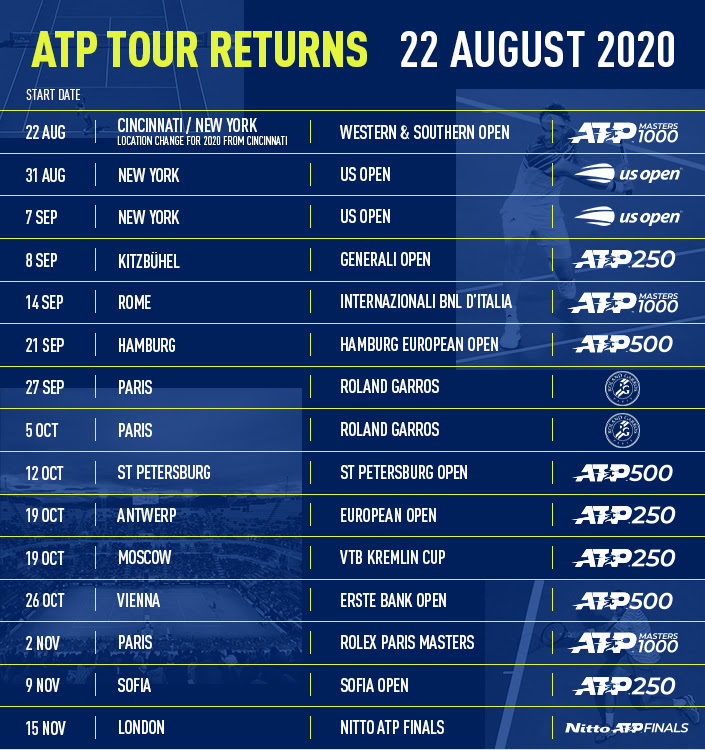 "Tennis is starting to find its way back and, while we must first and foremost look after the health and safety of everyone involved, we are hopeful we will be able to retain these playing opportunities and produce a strong finish to the season," Andrea Gaudenzi, ATP Chairman, said.
"I would like to commend the tournaments for their continued commitment, flexibility and resourcefulness in finding solutions to operate under these challenging circumstances."
ALSO READ: 'There are lots of cowards in tennis'
Under the updated schedule the ATP Masters 1000 tournament in Rome, will now be scheduled one week earlier, in the week previously assigned to the recently cancelled Madrid Open, and will have a Monday final.
The Rome event will be followed by the ATP 500 Hamburg European Open in the week prior to Roland Garros.
ALSO READ: US Open will be 'worth less,' feels Dominic Thiem
The final section of the calendar comprises of the European indoor swing, including events in St. Petersburg (St. Petersburg Open), Antwerp (European Open), Moscow (VTB Kremlin Cup), Vienna (Erste Bank Open), Paris (Rolex Paris Masters), Sofia (Sofia Open) ahead of the season-ending ATP Finals in London.
Among the changes, the St. Petersburg Open will be elevated to ATP 500 status for its 2020 edition.
ALSO READ: Players made to sign waivers ahead of US Open
The ATP also confirmed that the Next Gen Finals in Milan will not take place in 2020 due to the impact of COVID-19.