Even though Andrey Rublev won a Tour-leading five ATP titles this season, fellow Russian and former World No 1 Marat Safin believes they mean 'nothing.'
In an interview with Russian website gotennis.ru, Safin has said, "Do his victories this year mean anything? If in truth, it means nothing."
ALSO READ: After adult website debut, Tomic back on tennis court
"Andrey is a junior and will remain so," he continued. "Here he won five tournaments, but these are not 'Masters', these are not 'Grand Slam.' Novak (Djokovic) won less but finished first. Andrey needs to switch and play in major tournaments. He has a lot left to win."
It was a breakthrough year for the 23-year-old Rublev, who finished in the top-10 in the ATP Rankings for the first time in his career. He won five titles this year, including ATP 500 events in Vienna, St Petersburg and Hamburg.
Sharpen your forehand with our FREE guide
It was an incredible experience to play at the #NittoATPFinals for the first time in my career. I was very lucky to qualify this year in London and be part of one of the main tournaments of the season. Thank you @atptour for this award, I'm happy to finish this year #8 pic.twitter.com/uRfdKXYJsM

— Andrey Rublev (@AndreyRublev97) November 23, 2020
Rublev made his debut at the season-ending ATP Finals this time but couldn't quite make a mark. His best chance to stay in the running in the knockouts was in the second round-robin match against Stefanos Tsitsipas. But Rublev served a double-fault when he had a match-point to concede the contest 1-6, 6-4, 7-6 (6).
"Defeat from Tsitsipas? I have to give him a slap on the head for that," said Safin, 40.
ALSO READ: Murray calls on ATP to have a policy on domestic abuse
"He knows himself that he has let go. He has a rich arsenal, good physics, light on his feet. He understands what I'm talking about.
"Andrey needs to learn not to break down in stressful situations. In general, many people do not understand what professional sports are. The sport of elite achievement is not about learning to hit from different hands and go to play, but how long you can withstand a stressful situation."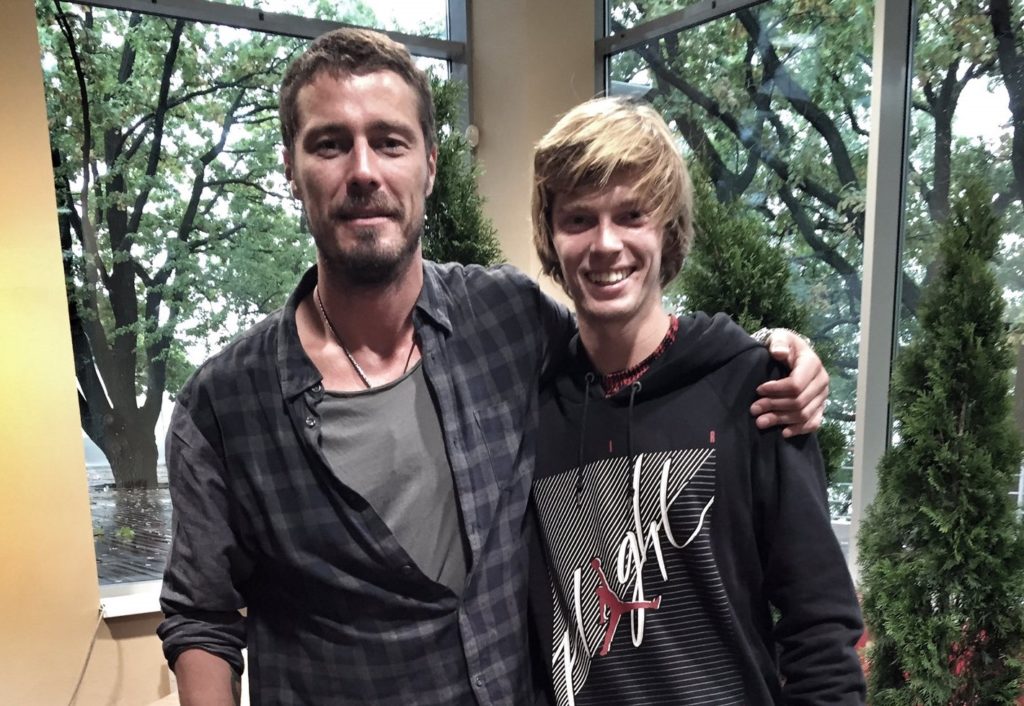 Safin himself wasn't quite known for his composure. A temperamental talent, he won two Grand Slam titles – 2000 US Open and 2005 Australian Open.
ALSO READ: Murray opens up on sexism towards Mauresmo
Safin defeated then World No 1 Pete Sampras to win the US Open while he defeated top-ranked Roger Federer in the semi-finals in Melbourne before claiming the crown. He remains the last Russian man to have won a singles major.
Speaking about his retirement, in 2009, Safin said he either wanted to compete for Slams or not at all.
ALSO READ: Challenge to keep tennis fans after Big 4 retire, says Thiem
"Either everything or nothing," he said.
"Poking around with children on some kind of courts, getting tired and running around with a sore knee is just discrediting oneself. As one learned person said: 'It's better to leave sports than sports leave you.'
ALSO READ: 'It feels very, very dark,' says Tsitsipas about life in a bubble
"I got tired of it, I got bored, I outgrew tennis, burned out. I had no motivation, I began to lose to unknown people. If you can't beat (Rafael) Nadal, (Novak) Djokovic, (Roger) Federer, then what to do there?"