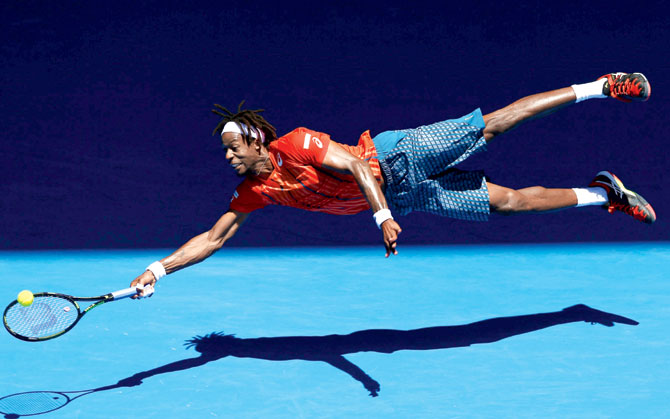 It was confirmed on Monday that elite breakdancing will debut at the Olympics as a full medal sport at the 2024 Paris Games. Russian tennis star Daniil Medvedev had an amusing suggestion for Gael Monfils.
"Gael Monfils in two sports at the '24 Olympics?" wondered Medvedev in a tweet.
ALSO READ: Dominic Thiem is a complete player, says coach Massu
The Frenchman, one of the most athletic players on the tour, also has some serious dancing skills and showed it off in a video on Friday. It brought back memories of his on-court dance battle with Laurent Lokoli during the Kids' Day at the 2014 French Open.
🤔…@Gael_Monfils in two sports in '24 Olympics?????

— Daniil Medvedev (@DaniilMedwed) December 12, 2020
It's Friday dance 🕺🏾https://t.co/i13xY0iNMM pic.twitter.com/i0YI2u7LNN

— Gael Monfils (@Gael_Monfils) December 11, 2020
Breakdancing will be the first dance sport to feature at the Olympics. It was staged at the Youth Olympics in Buenos Aires, Argentina in 2018. Paris 2024 will see 16 b-boys and 16 b-girls — the term used for competitive breakers, or breakdancers — compete in one vs one battles.
Sharpen your backhand with our FREE guide
The International Olympic Committee hopes that 'breaking' will bring in young audience to the quadrennial Games.
Ahead of the Tokyo Olympics, the IOC had decided to allow host cities to propose new games to be held in their Games. Skateboarding, sport climbing and surfing will make their debut at the Tokyo Games, which had to be delayed to next year due to the pandemic.
ALSO READ: Wouldn't be here without Serena, says Naomi Osaka
Monfils, 34, has represented France at the 2008 Beijing Olympics and 2016 Rio Olympics. He lost to Novak Djokovic in the quarterfinal in Beijing and again at the same stage to Kei Nishikori in Rio.