After Grigor Dimitrov and Borna Coric, Viktor Troicki became the third player to test positive for Coronavirus after featuring in the Adria Tour. More worrying though, his wife, who is pregnant, has also tested positive.
Troicki, 34, had played in the first leg of the Adria Tour—a charity exhibition event organized by the Novak Djokovic Foundation—in Belgrade but did from June 13-14, 2020. He then played at the Eastern European Championship, organized by another Serbian player Janko Tipsarevic—last Monday.
Also Read: 'Boneheaded' decision to go ahead with Adria Tour, says Kyrgios
"My wife took the test on Friday and I took it on Sunday after she tested positive," Troicki told Serbia's Telegraf website. "Our daughter tested negative."
After Dimitrov announced on Sunday that he had tested positive for coronavirus, tests were hastily arranged for players and their entourage at the Adria Tour in Zadar. Borna Coric and two of the physios tested positive for it.
Three of the ATP players testing positive in such a short time may put the resumption of the pro tour in jeopardy. Only last week the two governing bodies men's and women's tennis, the ATP and WTA respectively, had announced revised calendars and that the 2020 US Open and French Open were on track.
Also Read: How the tennis world reacted to Dimitrov testing positive for Covid-19
"The ATP wishes a complete and quick recovery for the ATP players and members of their staff who tested positive for COVID-19 following involvement in the Adria Tour exhibition tournament. The ATP continues to urge strict adherence to responsible social distancing and health and safety guidelines to contain the spread of the virus," the ATP said in a statement.
Even as US Open announced that it will take place behind closed doors and stringent health protocols will be in place, the Adria Tour didn't seem to take into consideration any of it. No social distancing norms were followed and neither players nor fans wore masks.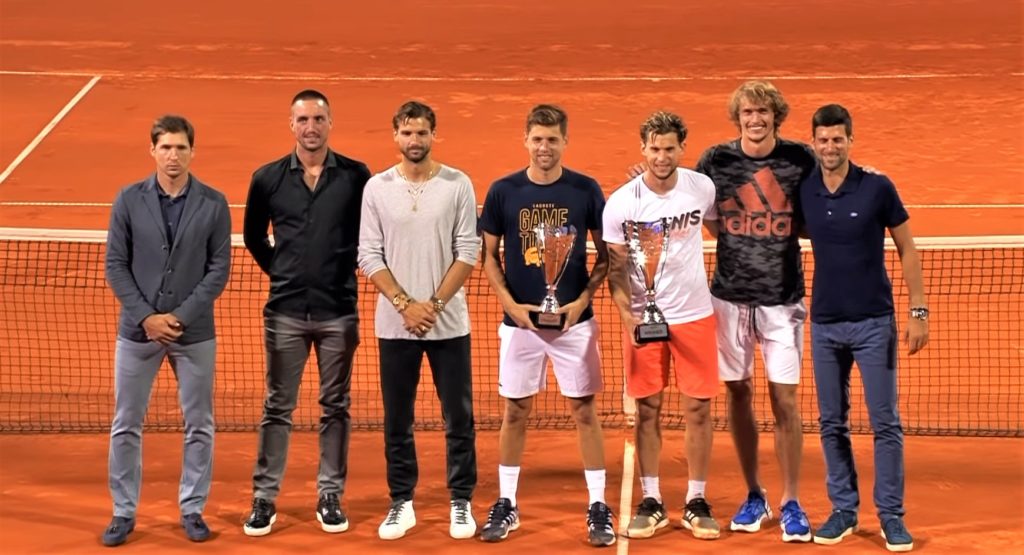 It featured some of the top players in the world, including Djokovic, Dimitrov, Marin Cilic, Alexander Zverev and Dominic Thiem.
British player Dan Evans slammed Djokovic and his tournament for setting a 'poor example.
"It is very unfortunate that Grigor has it, Coric has it but, you know, if you strip it back, is it a surprise?," Evenas asked during a press conference ahead of another exhibition event, the Battle of the Brits.
It's only inevitable that all these bonehead decisions are possibly putting US Open at risk. Which means this also affects some 300+ players. Nobody is bigger than the sport

— Mitchell Krueger (@mitch_krueger) June 22, 2020
"I think that is the question we should all ask. Even if the guidelines in that country are not two meters I think we should all… it is not a joke, is it? Even if the guidelines were taken away in this country to normal I would still be trying to keep myself out of the way as much as I could from other people. And I just think there has been a total disregard for that.
"I think we could definitely learn from that. And hopefully, that event doesn't take away from… now the US Open, I hope there is no second-guessing now on the US Open because of unfortunate events."