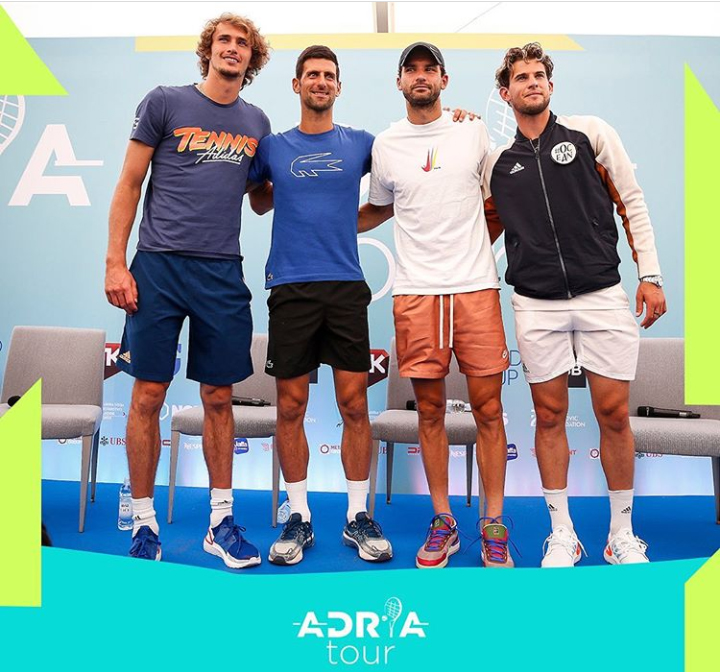 Even as the final of the second leg of the Adria Tour was cancelled on Sunday, after Grigor Dimitrov announced that he had tested positive for Covid-19, the tennis world slammed the tournament and its creator Novak Djokovic.
From former players like Chris Evert and Andy Roddick to current hothead Nick Kyrgios lashed out at the organisers and players involved.
Apparently there's a pandemic ……..

— andyroddick (@andyroddick) June 21, 2020
Dimitorov got Covid -19 are Thiem, Novak & Zverev also getting tested?

— Nicholas Kyrgios (@NickKyrgios) June 22, 2020
I don't understand… no safe distancing, total physical contact, no face masks, even the fans were without masks.. I don't get it.. not smart…hope no one else tests positive. Get well Grigor🙏🏼 https://t.co/3RpPEp3XjH

— Chris Evert (@ChrissieEvert) June 22, 2020
The Adria Tour had drawn a lot of flak from all corners because they did not adhere to any of the social distancing norms. Staged as a charity exhibition event, it had some of the top players in the world including world No 1 Djokovic, whose foundation organised the event, Dimitrov, Alexander Zverev, Dominic Thiem and Andrey Rublev.
While watching images from the Adria Tour, I kind of felt that something was really wrong… Am I the only one ? Is it a consequence of it ?
Get better soon Grigor 🙏 https://t.co/GKfouQ5hwF

— Alize Cornet (@alizecornet) June 21, 2020
Stellar leadership 😂 #ifyouknowyouknow

— Mitchell Krueger (@mitch_krueger) June 21, 2020
While Dimitrov played the first leg in Belgrade, Serbia, he withdrew due to illness after losing to Borna Coric on Saturday in Zadar, Croatia.
Apparently, the 29-year-old Bulgarian refusing to shake hands with Coric after their match on Saturday, hinting that Dimitrov knew he was already ailing.
Well, that was not a match. Something wasn't quite alright with Dimitrov. He chose not to shake hands rather just fistpump the umpire. pic.twitter.com/FmHDVlHpAZ

— Del🇪🇺 (@Stroppa_Del) June 20, 2020