Novak Djokovic's long-time coach Marian Vajda has explained the Serb's lackluster performance in London, saying he lost motivation after securing the year-end No 1 ranking.
The 33-year-old was assured to finish the season as No 1 after the Vienna Open. Djokovic drew level with childhood idol Pete Sampras for ending six seasons at the top of the rankings.
ALSO READ: Nadal, Federer don't make excuses like Zverev, says Sinner
"After securing the year-end No 1 honor, Novak lacked motivation a bit in London," said Vajda.
Of the four matches he played at the ATP Finals in London, the World No 1 won two: against Diego Schwartzman and Alexander Zverev. He was beaten in straight sets by eventual champion Daniil Medvedev in the round-robin stage. In the semi-finals, Djokovic led 4-0 in the third set tie-breaker against Dominic Thiem but could not close out the match.
Sharpen your backhand with our FREE guide
"He led 4-0 against Dominic Thiem in the deciding tie break but couldn't make that extra push and bring the victory home," added Vajda.
"We had 12 great years in London, even though the conditions were challenging this season due to that bubble and restrictions."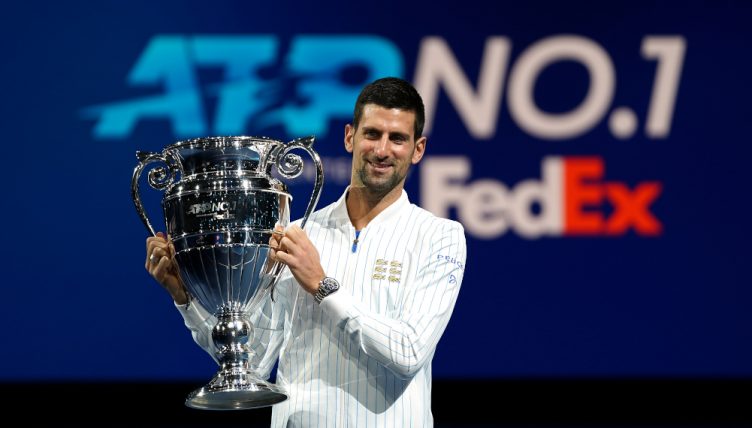 Even though the Serb started the season brilliantly, leading Serbia to title victory in the inaugural ATP Cup and winning the Australian Open, he has struggled since the Tour resumed after a six-month hiatus in August.
ALSO READ: 'Rublev's five titles this year mean nothing,' says Safin
Djokovic was defaulted from the US Open and soundly beaten by a rampant Rafael Nadal in the final of the French Open. The usually rock-solid Serb made 52 unforced errors to go down 0-6, 2-6, 5-7 in the Roland Garros summit clash.
"Paris was cold and windy, and many said that those conditions would suit Novak," said Vajda.
ALSO READ: After adult website debut, Tomic back on tennis court
"However, Rafa delivered an excellent performance in the final, finding incredible depth with his strokes. Novak was not entirely at 100% after that semi-final marathon against Stefanos Tsitsipas.
"Too bad that he lost the fourth set against the Greek, having to play a decider to advance and losing energy."
ALSO READ: Murray opens up on sexism towards Mauresmo
The 55-year-old Vajda and Djokovic will regroup for the off-season and map out their goals for the coming year.
The Djokovic camp has never been shy of their man's ambitions and Vajda reiterated the Serb is eyeing the joint-record for the most number of majors held by Roger Federer and Rafael Nadal (20).
ALSO READ: Djokovic shows solidarity with Zverev, says 'Stay strong'
"In 2021, Novak wants to focus mainly on Major tournaments and get closer to Roger Federer and Rafael Nadal, who are three ahead of him. His vision for the future is to break that record."