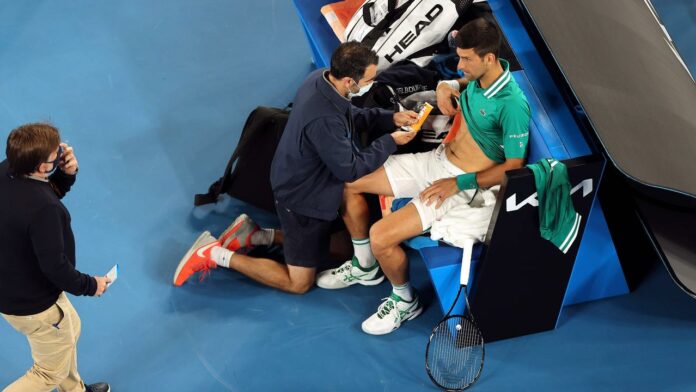 Former World No 1 Rafael Nadal's uncle Toni Nadal has expressed his doubts over Novak Djokovic's injury claims after the Serbian continued his impressive run at the Australian Open.
The World No 1 and defending champion needed a medical time out after leading Taylor Fritz two sets to love in their fourth round clash. Fritz came back to level the tie before losing the deciding fifth set.
In his post-match comments on court however, Djokovic declared that he had torn a muscle in his abdomen.
ALSO READ: Serena Williams sets up clash with Naomi Osaka
"I know it's a tear of the muscle, definitely. I don't know if I'll manage to recover from that in two days," he said.
In his quarterfinal against the big-serving Milos Raonic though, there was no visible sign of discomfort from the Serb, who went on to win in four sets.
Sharpen your backhand with our FREE guide
He continued in that same vein to beat sixth seed Alexander Zverev 6-7(6), 6-2, 6-4, 7-6(6) for a spot in the semi-final.
"It's surprising that, time after time, he gets over niggles. It's to the point where you start to doubt whether he can carry on in the tournament, and then they disappear overnight," the 59-year-old, who coached the 20-time Grand Slam champion for most of his career, wrote in a column for El Pais.
ALSO READ: Qualifier Aslan Karatsev continues historic run at Australian Open
"I wouldn't put his honesty in doubt – it's something that is done commonly in elite sport. He probably hides (injuries) less than he should."
Meanwhile, Serena Williams' coach Patrick Mouratoglou claimed that Djokovic uses his injuries to mentally throw off his opponent.
"Sometimes Novak plays a bit with the mind of the opponent when he's in trouble, pretending he's giving up. And then, boom, he plays again," he said to Tennis Majors.
ALSO READ: 'Let me play!' Medvedev asks coach to leave arena
"He's done that a lot of times in the past. But he never fakes an injury."
Djokovic is not the only player who has suffered from an abdominal problem this tournament. Matteo Berrettini pulled out before his fourth round match against Stefanos Tsitsipas, and Casper Ruud had to retire after losing the first two sets against Andrey Rublev because of abdominal strains.