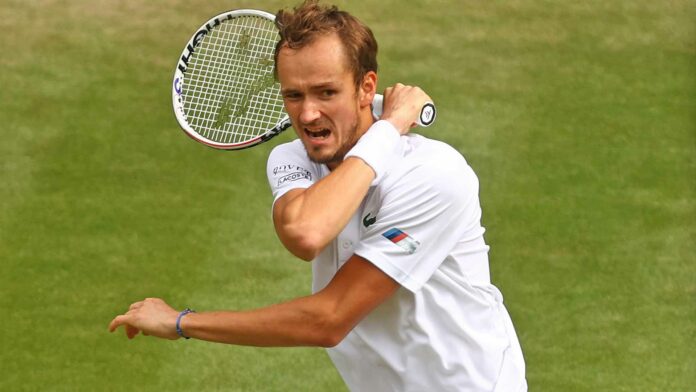 World No 2 Daniil Medvedev will not be able to compete at this year's Wimbledon as the Grand Slam tournament has banned players from Russia and Belarus.
The Lawn Tennis Association, which oversees grass-court events like Queen's and Eastbourne, said last week they would follow Wimbledon's lead.
ALSO READ: Ash Barty fuels speculation of sport switch
Players from Russia and Belarus are currently playing under the neutral flag and the countries have been banned from team competitions.
Statement regarding Russian and Belarusian individuals at The Championships 2022.

— Wimbledon (@Wimbledon) April 20, 2022
Wimbledon is the first tournament to bar individuals from these countries from competing.
Sharpen your backhand with our FREE guide
"In the circumstances of such unjustified and unprecedented military aggression, it would be unacceptable for the Russian regime to derive any benefits from the involvement of Russian or Belarusian players with The Championships," Wimbledon organisers said in a statement.
"It is therefore our intention, with deep regret, to decline entries from Russian and Belarusian players to The Championships 2022."
ALSO READ: Stefanos Tsitsipas joins select club with Monte Carlo win
Medvedev – presently recuperating after a hernia operation – restricted himself to saying "I want peace in all of the world."
However, Belarusian tennis star Victoria Azarenka, a former World No 1 and two-time Grand Slam title winner, was more outspoken than most.
ALSO READ: Alison Riske wins 34-point tie-breaker in BJK tie
"It is heartbreaking to see how many innocent people have been affected and continue to be affected by such violence," the 32-year-old said in March.
"I have always seen and experienced Ukrainian and Belarusian people friendly and supportive of each other. It's hard to witness the violent separation currently taking place."
ALSO READ: Novak Djokovic makes losing return at Monte Carlo
Belarus is seen as an ally of Russia and facilitated the invasion by allowing troops to cross over their border into Ukraine.
The Kremlin said on Wednesday that banning Russian tennis players from Wimbledon over Moscow's military campaign in Ukraine would be "unacceptable."
ALSO READ: ATP trying to put players in a cage, says Alexander Bublik
"Once again they simply turn athletes into hostages to political prejudice, political intrigues," Kremlin spokesman Dmitry Peskov told reporters.
"This is unacceptable."
ALSO READ: Marcelo Rios calls Novak Djokovic 'King of Stupidity'
"Taking into account that Russia is a very strong tennis country, our athletes are at the top of world rankings, the competition itself will suffer from their removal," he added.