World No 1 Novak Djokovic, who had expressed his concerns about participating in the US Open, seems to be warming up to the prospect of playing the hard-court Grand Slam, scheduled to start on August 31, 2020.
"I cannot tell you yes or no. I would love to go, of course, but still I have to see how it all plays out with the regulations," Djokovic told Tennis Channel Live on Thursday.
"As I've heard from some people at USTA and ATP I've talked to in the last couple of weeks, it's highly likely that we will be able to go and use the courts during the quarantine if it stays there," the Serb, a three-time US Open winner, added.
"Also, there is a possibility there is no quarantine for athletes coming in, which would be phenomenal. Right now, there is still plenty of time to decide if I go or not."
It may not yet be an emphatic confirmation, but US Open organisers will take heart from Djokovic's latest comments. Earlier in June, the 33-year-old had almost ruled out playing at the Grand Slam, saying, "For me currently, as things stand, most probably the season will continue on clay at the beginning of September."
Vote of confidence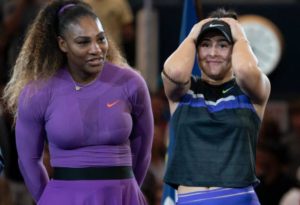 While there have been mixed reactions to USTA announcing that they will stage the US Open despite New York, the host city, being the epicenter of coronavirus pandemic in the US, 2019 women's finalists Serena Williams and Bianca Andreescu have given it a massive vote of confidence.
"Ultimately I really cannot wait to return to New York and play," Williams, 38, said in a video message on Twitter.
"I feel like the USTA is going to do a really good job of ensuring everything is amazing and everything is perfect and everyone is safe."
Williams, who is still chasing the record-equalling 24th Grand Slam title, added, "I'll certainly miss the fans, don't get me wrong. Just being out there in the New York crowd, hearing everyone cheer — I'll miss that, getting me through some of those tough matches."
Having stopped Williams in her tracks in the 2019 US Open final, Andreescu is looking forward to getting back on the tennis court.
"I have no doubt that the USTA has come up with the best plan to ensure our safety as we look to the return of tennis in 2020," the Canadian 20-year-old wrote on Twitter. "Returning to life as we once knew it is no longer an option. But, I plan to make the most of the opportunity to get back on the court, re-connect with players and friends and hopefully bring tennis back to the millions of fans across the globe safely."
Andreescu claimed her very first Grand Slam crown at the US Open last year, beating Williams 6-3, 7-5 in a gripping final. But a knee injury interrupted her momentum, and the Canadian has not played a single tour match this year so far.