Novak Djokovic's father, Srdjan, once again took a shot at Roger Federer, saying the Swiss was 'not such a good man.'
Federer is one of Djokovic's arch-rivals on the tennis tour. Along with Rafael Nadal, they form the holy trinity of men's tennis and are currently locked in a battle for the most number of Grand Slam titles. While Nadal and Federer are tied on 20, Djokovic has 18 majors to his name.
ALSO READ: Dan Evans disrespected me, says Lorenzo Musetti
Djokovic and Federer have been involved in some epic matches but have always displayed mutual respect for each other.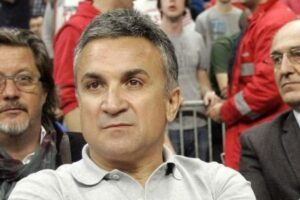 In a recent interview with Serbian TV channel K1, Srdjan once again criticized Federer.
Sharpen your forehand with our FREE guide
"About 15 years ago Federer attacked my son when he was still young, he was 18 or 19 years old," Novak Djokovic's father said.
"I knew someone would be there who would be better than him. So I said that [Federer] was a great champion, the best at the time.
ALSO READ: 'Jannik Sinner has a body like Disney's Goofy'
"But as much as he is a great champion, Federer is not such a good man."
Federer is one of the most popular athletes on the planet. Djokovic, meanwhile, despite being the World No 1 is a more divisive force. The Djokovic family, and those close to them, believe that 'Nole' isn't as adored as Federer because he is from an Eastern European country.
ALSO READ: Toni Nadal to coach Felix Auger-Aliassime
"It is obvious that foreign media outlets do not have the best opinion of us and think that we are constantly bothering them," Srdjan added.
"To tell you the truth, I do not want to be part of your twisted world. I'm sorry you don't like Novak. I just tell you the truth. What should I do?
ALSO READ: Astra Sharma slams umpire, supervisor for game-changing blunder
"They defame him so much and say so many disgusting things about him that it is unbelievable."
Last year, during the lockdown, Srdjan had launched a verbal attack on Federer, questioning why the Swiss was playing tennis at 39 years of age.
ALSO READ: Elina Svitolina and Gael Monfils get engaged
"Imagine that, a 40-year-old man still plays tennis, when he can go home and do some more interesting things," he had said in June 2020.
"But since both Nadal and Novak are breathing down his neck, he simply cannot accept the fact that they will be better than him. Go man, raise children, do something else, go ski, do something. Tennis is not my whole life, it is just my son's current hobby. He is only a tennis player at the moment."
ALSO READ: Stefanos Tsitsipas fined for breaching Miami protocol
A few days ago, Djokovic senior had said that he hopes Federer plays for another few years and rack up more losses against his son.
"I would like him to play for another 5-6 years to make the difference in the mutual score even bigger," the 60-year-old said.
ALSO READ: Former doubles top-100 player banned for 14 years for match fixing
"The three of them are the best players in history, they pulled each other (forward). That's the only way to look at them. It's very difficult to be friends with someone with whom you fight for No. 1, for titles, for money."