Former French Open finalist Alex Corretja believes that best of five set matches should be scrapped in the first week of Grand Slams to level the playing field a little bit.
On Thursday, Novak Djokovic needed only 83 minutes to beat Ricardas Berankis 6-1, 6-2, 6-2 in the second round at Roland Garros. A day earlier, 12-time champion Rafael Nadal had overwhelmed Mackenzie McDonald 6-1, 6-0, 6-3 to book his place in the third round.
ALSO READ: Shapovalov slams French Open for 'trash scheduling'
"In my opinion, to avoid these kinds of situations (top players winning easily) I think we should consider making the first week of the Slams in the men's side best of three sets. Maybe until the fourth round," the Spaniard said on Eurosport during the French Open coverage.
"Why? Because when you go on court knowing you have to play best of five against Novak, Roger (Federer), Rafa, you already play badly from the beginning because you know you're not going to be consistent for five sets, while they can be," said the 46-year-old.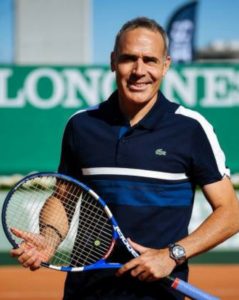 The Big 3 have not only maintained their stranglehold on the majors, they have been incredibly consistent in the opening rounds at the big events.
Sharpen your backhand with our FREE guide
The last time Novak Djokovic lost in the first week was the second-round exit (against Denis Istomin) at the 2017 Australian Open.
In 2016, Nadal pulled out before the French Open third round due to an injury while Federer last suffered an early exit when he lost in the third round of the 2015 Australian Open.
ALSO READ: Bertens leaves court in wheelchair, Errani mocks her
"If they (the matches) go best of three, you put a lot of pressure on the favourites and at the same time the underdogs think they can do it," said Corretja, who made the French Open finals in 1998 and 2001.
"I think it would create a little bit of feeling that they (top seeds) can lose earlier in the tournament. Now, until they reach the quarters, semis, and they play against each other, I don't see any chance that they will lose."
ALSO READ: Evans furious about 'cheat' row at French Open