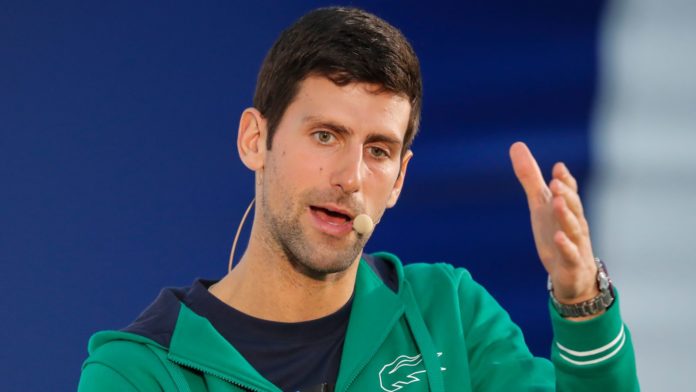 World No 1 Novak Djokovic has issued a statement saying he sent the Victorian government a list of suggestions only because wanted to help his fellow competitors stuck in quarantine in Melbourne. But his 'good intentions' were misconstrued by the tennis world.
On Monday, Djokovic had written a letter to Australian Open tournament director Craig Tiley, suggesting the organisers to provide players with better food and training facilities.
ALSO READ: Putintseva's nightmare in Australian Open bubble continues
As many as 72 players have been forced into hard quarantine as they arrived on flights where one or more person tested positive for the virus. The strict protocols mean players were stripped of the five hours of training and practice time and have been confined to their hotel room for 14 days. It is far than ideal preparation for a Grand Slam.
— Novak Djokovic (@DjokerNole) January 20, 2021
But the Serb was criticized by media and fans for putting forward unreasonable demands – one of his suggestions was to provide players in hard quarantine with private housing, complete with an in-house tennis court. The Victoria government shot down all his suggestions.
On Wednesday, Djokovic tweeted, "My good intentions for my fellow competitors in Melbourne have been misconstrued as being selfish, difficult, and ungrateful. This couldn't be farther from the truth."
Sharpen your backhand with our FREE guide
Among the male players, Djokovic, Rafael Nadal and Dominc Thiem, are in a separate bubble in Adelaide, away from the tennis crowd in Melbourne.
"I genuinely care about my fellow players and I also understand very well how the world is run and who gets bigger and better and why.
ALSO READ: Bautista Agut apologieses for calling Australian Open bubble a prison
"It is very difficult for me to be a mere onlooker knowing how much every help, gesture, and good word mattered to me when I was small and insignificant in the world pecking order. Hence, I use my position of privilege to be of service as much as I can where and when needed.
"I was aware that the chances were low that any of our suggestions would be accepted. Since I couldn't be with other players in Melbourne, I made myself available to them if needed."
ALSO READ: Tomic's girlfriend gets death threats over hair joke
Tiley also came to Djokovic's defence, claiming the World No 1 did not 'demand' but suggested changes.
"In the case of Novak, he wrote a note, these weren't demands, they were suggestions, but he is understanding what two weeks of lockdown means," he said.
ALSO READ: Victorian government says 'firm no' to Djokovic demands
The Australian Open tournament director, who had a conference call with almost 500 players on Tuesday, was unhappy with players using social media as a way to air their grievances about food or facilities.
"What really upset me probably last night the most is if you've got a complaint, blame me," he told reporters on Wednesday.
ALSO READ: Federer management firm Team8 parts ways with Zverev
"Don't go out on social media and take it out on the staff, Melbourne community, or Australia – don't do that. If you want to have a crack, come to me. Not at someone that's been working around the clock, that hurts. What are you trying to achieve? You are not solving the problem."