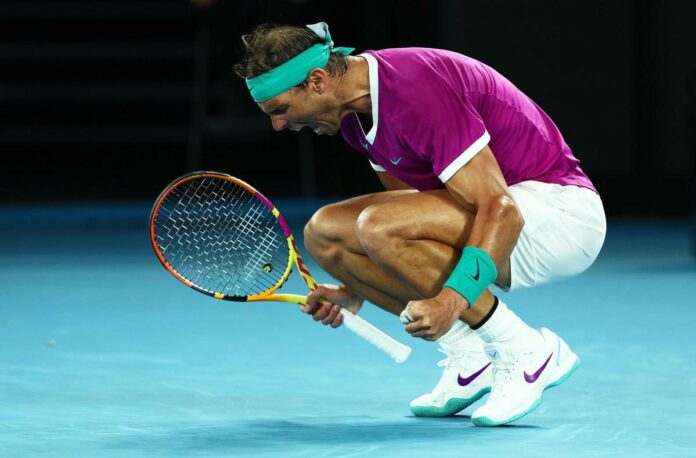 Rafael Nadal closed in on Grand Slam history as he defeated Italy's Matteo Berrettini 6-3, 6-2, 3-6, 6-3 Friday to reach the Australian Open final.
The Spaniard is now one win away from major No 21, which will see him break away from rivals Roger Federer and Novak Djokovic and be the most decorated men's singles Grand Slam champion.
ALSO READ: Showman Nick Kyrgios tells umpire to control the crowd
While Federer did not compete at the Australian Open as he is still recovering from surgery, Djokovic was deported from Australia on the eve of the major.
What it means to be back in an #AusOpen final 💙@RafaelNadal • #AO2022 pic.twitter.com/OF29zQkF9i

— #AusOpen (@AustralianOpen) January 28, 2022
An emotional Nadal was keen to put things into perspective after the win, reflecting on his journey to yet another Grand Slam championship match after struggling with a foot injury for the second half of the 2021 season.
Sharpen your forehand with our FREE guide
"A month and a half ago I didn't know if I would be able to play tennis," the Spaniard said in his post-match on-court interview.
"So it doesn't matter, I just wanted to enjoy it and try my best."
ALSO READ: Danielle Collins powers into Australian Open final
Nadal now holds a 2-0 lead over Berrettini in Grand Slam finals. He had beaten Berrettini in straight-sets in the 2019 US Open semi-finals, their only previous meeting.
As well as becoming the first man to 21 Grand Slam titles, lifting the trophy in Melbourne would make Nadal the second man (after World No. 1 Novak Djokovic) in the Open Era to win all four Grand Slams twice.
ALSO READ: Denis Shapovalov calls umpire Carlos Bernandes 'corrupt'
Nadal was keen to treat Sunday's match as he would any other major final, however.
"For me it's all about the Australian Open, more than anything else," he said.
ALSO READ: Daniil Medvedev mantra: 'What would Novak do?'
"It's just an amazing event. I feel very lucky that I won once [here] in my career, 2009, but I never thought about another chance in 2022, so I'll just try to enjoy the victory today and then after tomorrow I'll prepare my best."