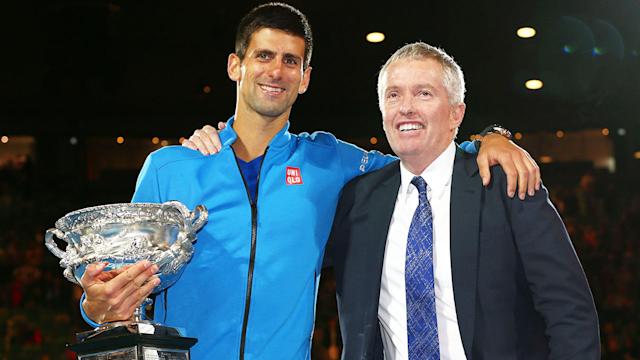 Australian Open tournament director has defended the medical exemption given to Novak Djokovic for the major, saying there was no preferential treatment given.
Players need to be fully vaccinated to compete at the Australian Open. But Tiley had informed last month that those who are not can seek entry through medical exemption, which is reviewed by independent panel.
ALSO READ: Emma Raducanu withdraws from Melbourne event
There was a doubt over defending champion Djokovic's participation as he had not confirmed if he was inoculated.
Happy New Year! Wishing you all health, love & joy in every moment & may you feel love & respect towards all beings on this wonderful planet.

I've spent fantastic quality time with loved ones over break & today I'm heading Down Under with an exemption permission. Let's go 2022! pic.twitter.com/e688iSO2d4

— Novak Djokovic (@DjokerNole) January 4, 2022
"We're just not in a position – even legally – not in a position to disclose other people's medical information," Tiley told reporters on Wednesday morning.
Sharpen your forehand with our FREE guide
But Tiley denied that Djokovic had been given preferential treatment.
"Every application was reviewed anonymously," Tiley told 3AW.
"No one knew whose application was received by whom they looked at purely on the grounds of the conditions that were set medically by the government."
ALSO READ: Russian player barred from playing Australian Open
He also said that wasn't aware of Djokovic's grounds for exemption from vaccination.
According to Tiley, there were 26 anonymous applications made by players or their support staff for an exemption and only a handful granted.
ALSO READ: 'I'd be surprised if Emma Raducanu finishes year in top-20'
"Most haven't, 75 to 80 per cent of those that apply for medical exemption, it was not granted," Tiley said on Wednesday morning.
He insisted that Djokovic was assessed by two separate independent panels of medical experts and was granted the exemption due to a legitimate medical condition, which the player hasn't made public.
ALSO READ: Benoit Paire frustrated after testing positive for '250th time'
Meanwhile, there have been a few players who had withdrawn from the Australian Open as he was not fully vaccinated.
Liam Broady, who is at the ATP Cup this week as Great Britain's team captain, wrote on social media: "The second AO announced there would be exemptions 8 weeks ago we all knew," with eye-roll and laughing emojis.
ALSO READ: 'Naomi Osaka dominant only on hard courts'
His Great Britain teammate Jamie Murray also questioned the fairness of the deicison.
"I don't know what to say about that really. I think if it was me that wasn't vaccinated I wouldn't be getting an exemption," Murray said.
ALSO READ: Nick Kyrgios snipes back at Bernard Tomic
"But well done to him for getting clear to come to Australia and compete."
When asked if he thought the decision was unfair, he added: "Well, it's whatever you want to say. That's the situation."