Former French Open champion Francesca Schiavone has lauded Serena Williams in her recently-published book and said that her rivals need to take a leaf out of the Muhammad Ali playbook to beat her.
Schiavone, who retired from the sport in 2018, has faced 23-time Grand Slam champion Serena nine times in her career, and won only twice. At 5'5, the wiry Italian was one of the smallest players on the tour.
ALSO READ: Becker in trouble for concealing Wimbledon trophy
"To beat Serena, stronger and taller than you, you need to be like Muhammad Ali: dodge, dodge, and hit," the 40-year-old writes in her book My Rebirth. "Let her run and run. Get her drunk and then hit." Or as Muhammad Ali would say, 'float like a butterfly, sting like a bee.'
In 2010, Schiavone became the first Italian woman to win a major when she clinched the French Open title. In her career spanning 20 years, Schiavone, believes Serena was the most complete player she had ever come across.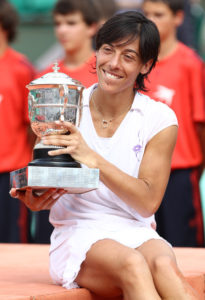 "She is not only a great woman but also a bomb. When you play her you need at least two tactics," writes the former World No 4.
Upgrade your serve with our FREE guide
"During the match Serena can make you feel her personality really hard. In Montreal (during the 2013 Canadian Open) I just won a point and she placed a roaring c'mon in my face, followed by a big fist pump. I felt it."
The American physically and mentally dominated that match, winning 6-3, 6-2. "You could feel Serena Williams's brain wheels working hard in her head," adds Schiavone.
ALSO READ: Medvedev is a moron, says Schwartzman
The Italian has gone through some tough times since her retirement. In December 2019, she revealed that she had survived cancer and was 'still breathing'.
"It was the toughest fight that I've ever faced," she had written on her social media account. "The best thing is that I was able to win this battle."
ALSO READ: 'Dear Tennis, I'm ready to say Goodbye'
Meanwhile, the 39-year-old Serena is finding it increasingly difficult against faster opponents. She hasn't won a major since the 2017 Australian Open and is one away from equalling Maragaret Court's all-time record of 24 singles majors.