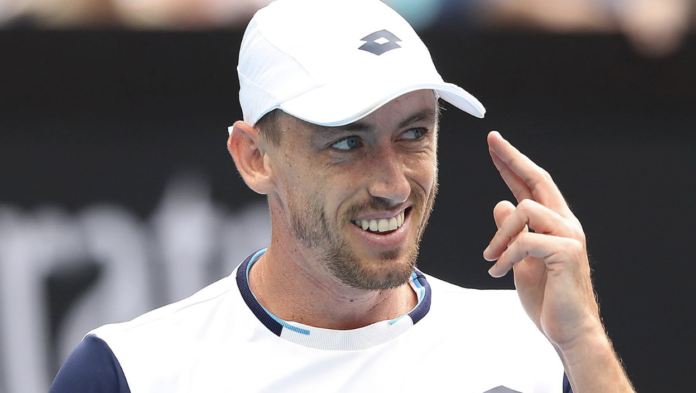 John Millman is set to use his home advantage and make a formal request that his match against Roger Federer is not played on Rod Laver Arena.
Australian Open tournament director will have to consider John Millman's request to play his third-round match against Roger Federer on Melbourne Arena in a bid to avoid the two main show courts.
The Australian aims to get more home supporters to attend the match as the match will be open to anyone with a ground pass compared to the Rod Laver Arena and Margaret Court Arena where only those with premium tickets are allowed entry.
"just to throw a spanner in the works for Roger"
Melbourne Arena is also Nick Kyrgios' favourite venue in the world, who requested to play all of his matches there.
No doubt Millman will be asking the same question in a bid to unsettle Roger Federer and make him play on an 'unfamiliar' court, but thinks that his request is likely to be knocked back.
"Of course, but I don't think Craig will take me too serious," Millman said of his plans.
"He hits on the outside ones, but he hasn't played too many there"
"More so just to throw a spanner in the works for Roger. I don't know if he knows the other courts.
"He hits on the outside ones, but he hasn't played too many. I don't know if he would have played too many matches on the outside ones.
"Look, I love a vocal crowd. Obviously the matches I played, probably two really special courts, Show Court 3 and Melbourne Arena, are notorious for the crowd support you get there, the vocal Aussies.
"I'm just your typical Aussie bloke, I'm one of the people."
"I very much consider myself, and I think the people who know me, know that I'm just your typical Aussie bloke. So I'm one of the people.
"The people get the ground passes and the people go to those courts.
"Look, I know it's a little corporate at Rod Laver, but it's still a pretty cool court to play on."
Federer lost to Millman in the 2018 US Open fourth round but the Australian feels things are very different now.
"Going into New York, going into that slam, I was really worried. I was actually playing I thought pretty average tennis. Really was high stress.
"I pulled out two weeks before, I had a back problem. I think I lost first round in Winston-Salem.
"In terms of my performances, this year has actually been great. 2020 so far I've won plenty of matches. I think that's really cool to have that good bit of momentum.
"When I did play Roger, that was a round of 16 match. I've gone even one further round. By that stage I felt really good with the conditions. I was really feeling the ball well there.
"You never really know, to be honest with you, till you walk out on court and hit the first few balls, kind of try to settle yourself in as early as possible because these guys are such good frontrunners.
"You start to realise, 'Oh, okay, tonight it's actually feeling pretty good'. You don't really know till you go out there.
"Look, I'm really happy so far with how the season's gone. This is as good of a season start as I've had for I think that I've ever had. In that regard, feeling pretty good about it."
Do you think this will affect Federer? Leave your comments below
[vc_video link="https://www.youtube.com/watch?v=KRr-tSOYIe8″]