Former player Ion Tiriac believes Roger Federer could make a fool of himself by attempting a comeback after yet another knee surgery.
Federer, who will turn 41 this August, has not played since losing the Wimbledon quarterfinals last year.
ALSO READ: Nick Kyrgios mocks Rafael Nadal after time violation warning
Following the grasscourt major, he underwent a third knee surgery in two years. But the Swiss has said he will play the Basel Open and Laver Cup this year.
"You can play tennis for fun. Which would be a great thing. Although, pay attention: it would be a pity if he made a fool of himself," Tiriac told claytennis.com in an interview.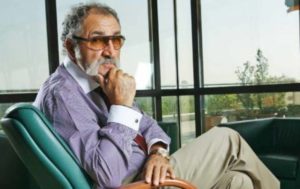 The outspoken Romanian, who won the 1970 French Open men's doubles title with Illie Nastase, believes Federer already made a 'mistake' by playing last year's French Open.
Update your serve with our FREE guide
After a marathon third round, the 20-time champion pulled out of the tournament.
"How can he afford to tell a Grand Slam like Roland Garros that he is going to leave for Wimbledon?" asked Tiriac.
"He walks to Wimbledon directly, and he's done."
ALSO READ: US Open to allow Russian, Belarusian players
Tiriac, better known as manager of Boris Becker and a businessman, was also critical of Novak Djokovic's stand on inoculation.
"I think that Djokovic has made a fatal mistake, fatal with the issue of the vaccine. Fatal," he said.
ALSO READ: Serena Williams to play Wimbledon
"For the image of him and all that, a pity, because he is a sensational player. He wants to be a personality, but he doesn't have the charisma of Nastase, of McEnroe.
"So it's a little more difficult. But without a doubt he is a great player and a hard worker. But he is not Nadal!"
ALSO READ: Andy Murray suffers ab injury, pulls out of Queen's
Djokovic could not compete at this year's Australian Open due to the Grand Slam's vaccination mandate.
He had to sit on the sidelines and watch rival Nadal pull ahead in the race for most men's singles Grand Slam titles.
ALSO READ: Nick Kyrgios racism claim to be investigated
The Spaniard won the Australian Open and followed it up with a stirring French Open triumph earlier this month to take his tally to 22.
Federer and Djokovic meanwhile are tied on 20 majors each.